2016
Ford
Focus RS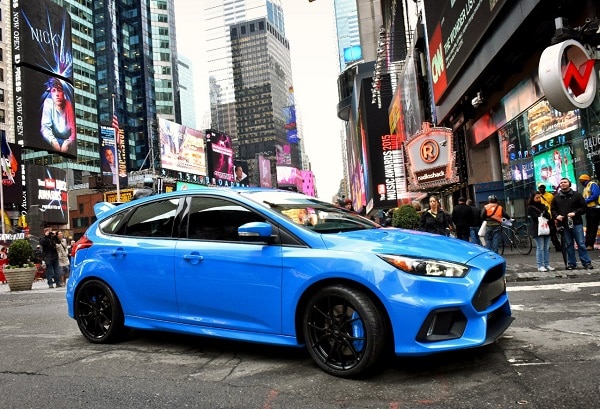 The 2016 Ford Focus RS is here! This fantastic sport Focus is designed to exhilirate. Stop in today and see what hype is about.
It's pretty widely accepted that the Focus is a sensational car, and it's one that just seems to continue to improve over time. It may have gone on sale here originally just a year after its debut in Europe in 1998, but the most exciting and exhilarating version has continued to allude American shores, until now that is. Although we've had the excellent Focus ST for a while now, the simply staggering RS model has remained tantalizingly out of reach. However, for the first time American buyers can now get their hands on the 2016 Ford Focus RS, and what a car it is.
There's plenty to get stuck into with the 2016 Ford Focus RS, but any discussion about this fabulous hot hatch has to start with its powertrain. At the heart of the RS is a turbocharged 2.3-liter EcoBoost four-cylinder that develops a feisty 350 horsepower and 350 lb.-ft. of torque to all four wheels. The RS sends all that power to the wheels through a six-speed manual transmission to make the most of the exhilarating driving characteristics on display here. There's also a unique torque-vectoring system to help keep things in check, which is capable of sending as much as 70 percent of the engine's power to a single rear wheel if needed.
If the engine seems a little familiar to you, that's probably because it's derived from the same unit found in the current Mustang. However, in the 2016 Ford Focus RS it produces 40 more horsepower and an additional 30 lb.-ft. of torque, it revs quicker, the power delivery is more linear and there's an exhaust note truly befitting such a stellar performance car.
The straight line speed of the car was always going to be impressive with numbers like those, so 60 mph coming up in around four and a half seconds is hardly a surprise. But anyone familiar with the heritage of the 2016 Ford Focus RS will know it's how the RS handles corners and bends that makes it such a modern day legend.
Turn it into a corner, and the RS sticks to the road like a true sports car with 0.98 g of lateral grip, and that's on the Michelin Pilot Super Sport tires that come standard. Go for the optional upgrade of the Pilot Sport Cup 2 tires on forged wheels, and you'll wonder what has to be done to make the Focus lose traction in just about any circumstances.
On a twisting race track or on a fast back road, the 2016 Ford Focus RS displays more finesse and neutrality in the way it handles than a front-engined hatchback has any right to, and the steering is as quick, precise and communicative as you could ever hope it to be. If you haven't experienced the RS and you enjoy your driving, you really ought to check the RS out now that you can.
*All vehicle mileage based on 2016 EPA mileage estimates. Use for comparison purposes only. Do not compare to models before 2008. Your actual mileage will vary, depending on how you drive and maintain your vehicle.