New Ford Mustang Mach-E in Livonia, Michigan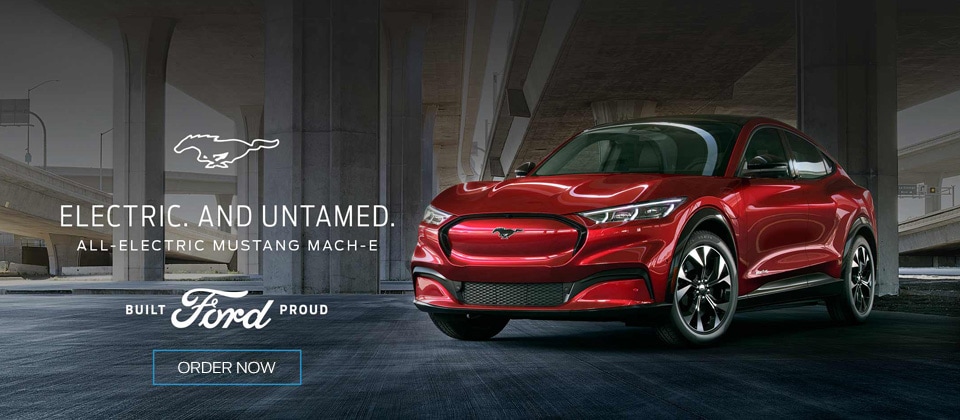 New Ford Mustang Mach-E for Sale in Livonia, MI
The 2021 Mustang Mach-E is now for sale at Bill Brown Ford in Livonia, and it comes with no shortage of fanfare as the first all-electric vehicle in the new Ford lineup. And as an electric SUV with the Mustang name attached, this revolutionary model is bringing the heat in terms of both practicality and performance, something that drivers of all persuasions can appreciate.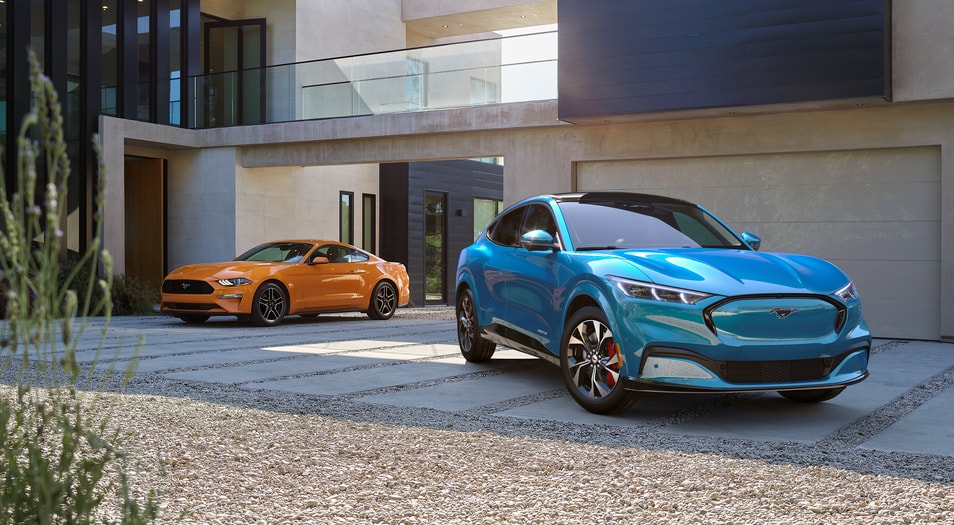 Performance
Anything with the Mustang name attached has an obligation to be fun, even an all-electric SUV. Fortunately, Ford has delivered with a base setup that offers 266 horsepower and 317 pound-feet of torque. Jumping through the trim levels takes you to models that offer 290, 346, and 480 horsepower depending on how much pull you want underneath you. All-wheel drive models come with up to 428 pound-feet of torque, and the GT offers a staggering 634 pound-feet of torque to go along with it's 480 horsepower.
Range
Just like the power outputs, there are different options for range as well. Standard range models can run for up to 230 miles, depending on conditions and your driving habits. Long Range Mach-E setups are approaching 300 miles, once again dependent on several factors. Either way, that's not much short of a gasoline powered vehicle, and you can skip the trips to the pump on the way to work.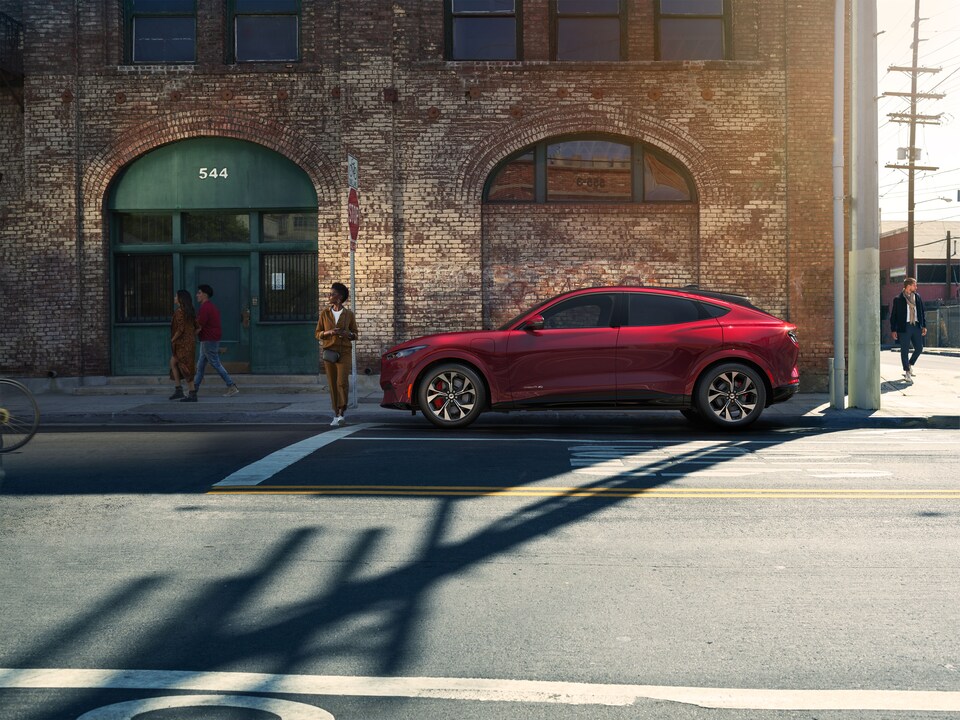 Interior
The cabin of the new Mustang Mach-E is well appointed, offering multi-zone climate control, a massive infotainment display that also includes vehicle dynamics functions and climate controls, and a power-sliding sunroof for open-top driving. You'll get seating for five, a 22 cubic-foot trunk space and an additional six cubic feet of space in the front-trunk area.
Trim Levels
Select
California Route 1
Premium
GT
Visit Our Dealership Today!
Check out the new Mustang Mach-E with a test drive at our Livonia, MI Ford dealership today!
The New Ford All-Electric Mustang Mach-E is here!
The All-electric Mustang Mach-E is now available for order. If you SELECT BILL BROWN we will ensure you receive the best experience and help fund fast DC charging stations across the state of Michigan. There are two options to make a reservation: here at Bill Brown Ford or at ford.com/suvs/mach-e/2021/.
Shoppers throughout Metro Detroit can also reach out to your regular trusted Bill Brown Ford salesperson or call us anytime at (734) 421-7000. We will be right there with you in this new process handling any hiccups along the way.
It's important to know that the Mustang Mach-E is eligible for a $7500 federal tax credit and they are AXZ Plan eligible. 
Order Your Mustang Mach-E with Bill Brown Ford
This is an exciting launch, to ensure you receive your tax credit, and your vehicle we suggest you order your Mustang Mach-E with Bill Brown Ford. We have an amazing dedicated EV team already in place to work with you and answer your questions.  They will also be able to walk you through the ordering process to answer any questions that may come up. We want this to be the best Ford experience you've ever had, so we have a dedicated email electric@billbrownford.com for questions.
Fill out the form to start the order process or call us at (734) 421-7000
Order Your Mustang Mach-E with Ford
To order through Ford's site go to ford.com/suvs/mach-e/2021/ Make sure to select Bill Brown Ford as your dealer. We are committing resources to not only give you a great sales experience, but also to make sure you are able to travel untamed through an extensive electric infrastructure.
Our Dealership is Committed to Michigan's Electric Vehicle Charging Infrastructure
As Michigan's largest Ford dealer we are working hard to ensure that there are fast DC chargers in place across the state especially on the road to Traverse City and the road along the shore. To make this a reality we are partnering with Consumers Energy to support their fast DC chargers initiative. Our Livonia dealership has committed to invest in a Consumers Energy qualifying Fast-DC charging station for every 200 electric vehicle deposits we receive. We are also working hard to further Ford's long-term Electric Vehicle efforts and deliver on their #electricanduntamed promise wherever possible. To date, Bill Brown is the only Ford Dealer making a commitment like this to the electric car infrastructure in Michigan, but we can't do it alone.
If you are thinking about ordering one of the new Mustang Mach-E PLEASE SELECT BILL BROWN FORD during the ordering process or work with one of our dedicated EV salespeople to order directly from Bill Brown Ford.
If you're curious about how Ford arrived at an electric SUV inspired by the Mustang, take a look at the evolution of the Ford Mustang through the years.