Shop & Compare Ford SUVs in Michigan
Shop Bill Brown Ford's Selection of New Ford SUVs in Metro Detroit
Bill Brown Ford is home to a wide variety of new Ford SUVs, offering Livonia, MI customers plenty of options. Which Ford crossover sounds most appealing to you? We'll break down each new Ford SUV, starting with some of the most popular models.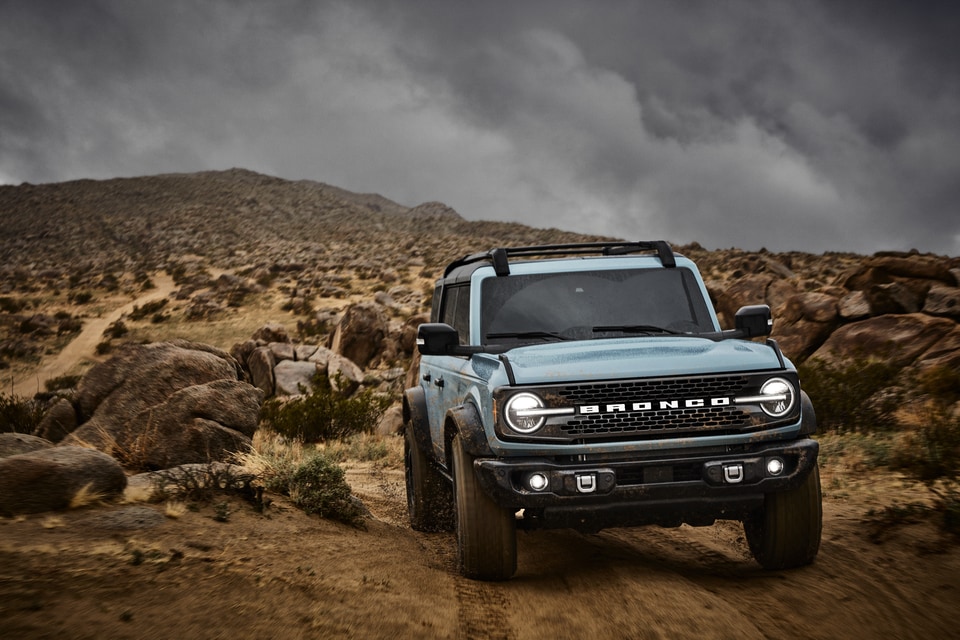 New Ford Bronco SUVs to Buy in Michigan
Michigan motorists who first fell in love with the classic Ford Bronco from the 60s and 70s will love this classic Ford SUV's revival. The Ford Bronco returns in 2021, bringing with it best-in-class ground clearance, suspension travel and crawl ratio. Ground clearance is an impressive 11.6 inches, and the new Ford Bronco possesses unique toughness and durability, perfect for your off-road adventures. Ford's Co-Pilot360™ safety suite is standard, and there's plenty of cargo capacity, with 38.3 cubic feet of storage and 83 cubic feet in total cargo volume. A standard state-of-the-art SYNC®4 infotainment system boosts this new Ford SUV's technology presence. Built on a truck platform, the Ford Bronco is available as a two-door or a four-door model. Livonia, MI motorists can choose from a pair of robust engines, a turbocharged inline-4 or a turbocharged V6.
Shop Ford Bronco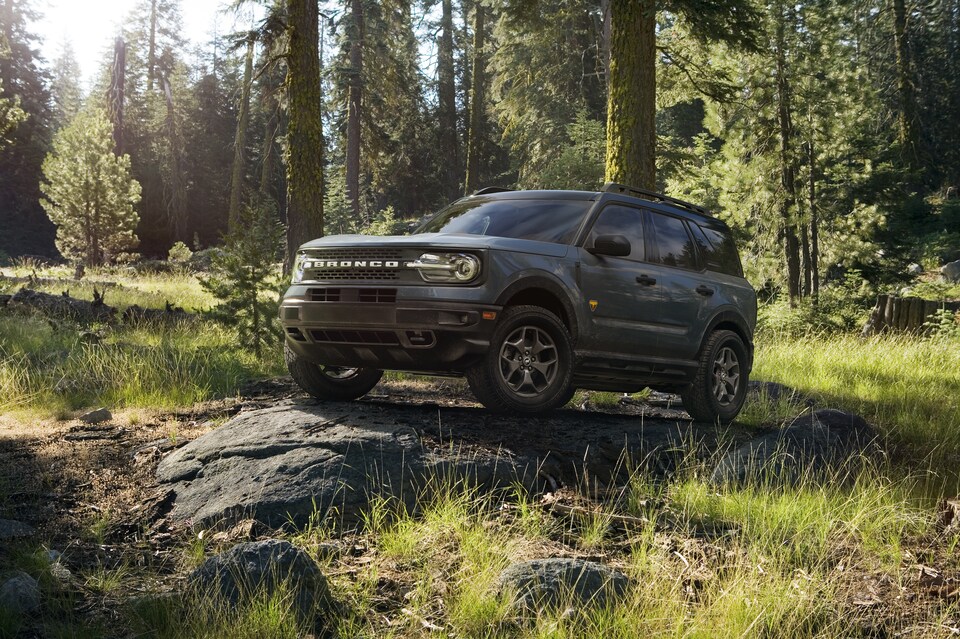 New Ford Bronco Sport for Sale
The all-new Ford Bronco Sport is the Bronco's compact sibling. Its 8.8 inches of ground clearance and trail-tested off-road capability make it a thrilling smaller and sportier SUV. Just like the Ford Bronco, the Bronco Sport features a fun performance driving feature, the Terrain Management G.O.A.T. (Goes Over Any Terrain) System, comprised of eight different driving modes. Ford's Co-Pilot360™ safety suite is also standard, and the Bronco Sport offers an interior with clever storage solutions, headlined by a MOLLE (modular lightweight load-carrying equipment) strap system. Metro Detroit motorists earn 25/28 (city/highway) miles per gallon in this new Ford compact SUV.
Shop Ford Bronco Sport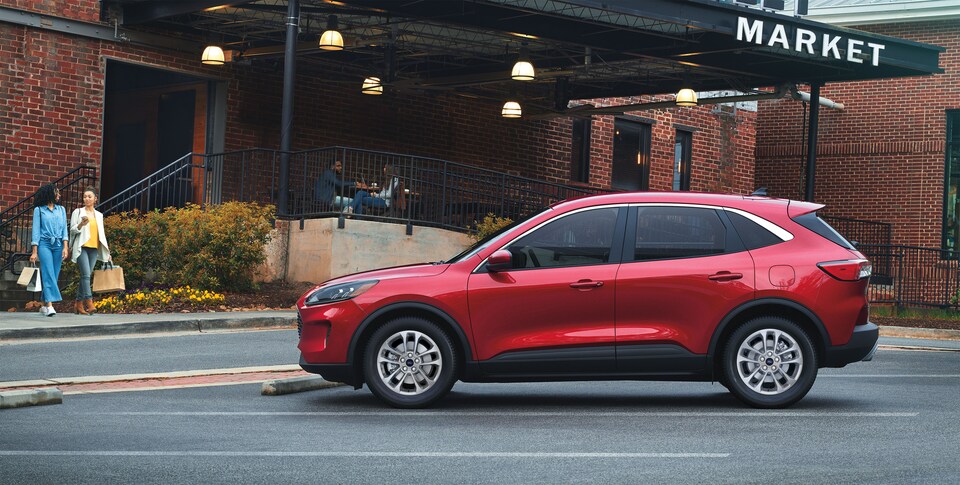 Drive Around Detroit in a New Ford Escape
Livonia, MI drivers who fall in love with fuel economy ratings for trips to Detroit will love the new Ford Escape. Earning 44/37 miles per gallon, this compact SUV is the most fuel-efficient Ford crossover, and it offers excellent maneuverability. There are hybrid and plug-in hybrid Escape models available. The Ford Co-Pilot360™ safety suite is standard.
Shop Ford Escape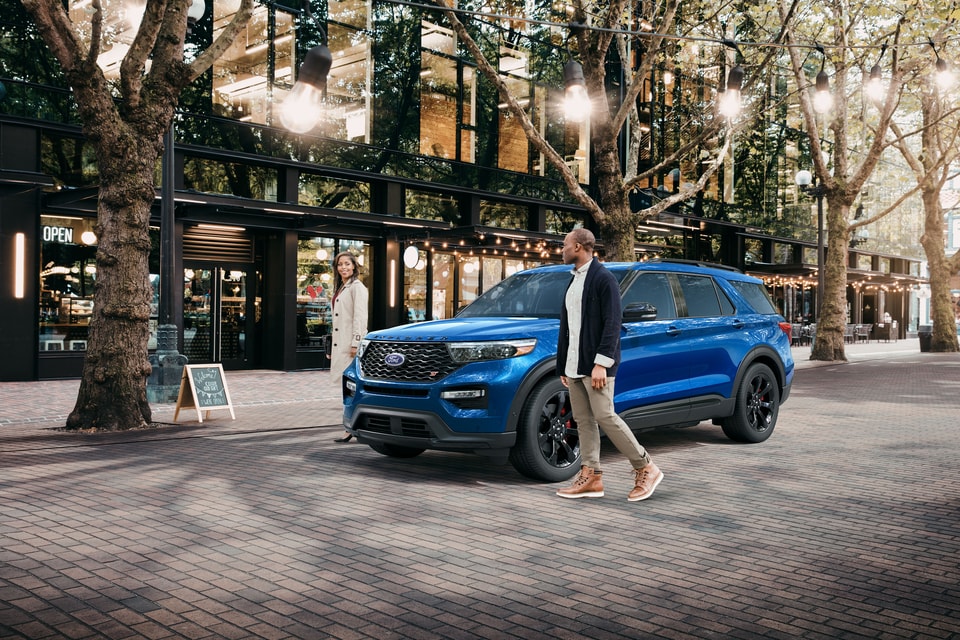 Explore Michigan in a New Ford Explorer
One of the best family-oriented midsize SUVs Detroit drivers can purchase is a new Ford Explorer. Four robust powertrains - including a turbocharged inline-4 and a trio of V6 engines - all output 300 horsepower and 300 pound-feet of torque, allowing the Explorer to tow 5,600 pounds. Like other Ford SUVs, the Ford Co-Pilot360™ safety suite is standard. The Explorer's interior offers 18.2 cubic feet of storage and 87.8 cubic feet of cargo capacity. Its range of safety, comfort and technology features, combined with its performance capabilities, make this new Ford SUV a family favorite.
Shop Ford Explorer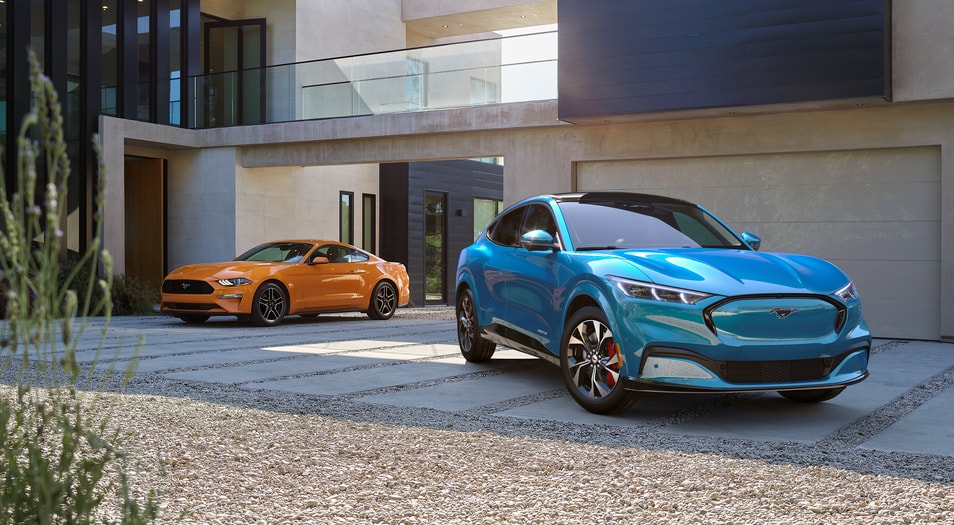 New Ford Mustang Mach-E Available in Metro Detroit
Michigan motorists embracing electric vehicles might want to consider Ford's first fully-electric crossover SUV, the new Ford Mustang Mach-E. It's a truly exhilarating ride, achieving 266 horsepower and 317 pound-feet of torque. The Ford Mustang Mach-E is powered by a 66 kWh lithium-ion battery pack, which can recharge 80 percent of its battery in 45 minutes. This electric crossover has a standard expansive all-electric range of up to 300 miles. All-wheel drive and an extended-range battery pack are both available. Michigan motorists will adore the Mustang Mach-E's mammoth 15.5-inch infotainment touchscreen that's standard. A roomy trunk and ample cargo space entice Detroit drivers all the more.
Shop Ford Mustang Mach-E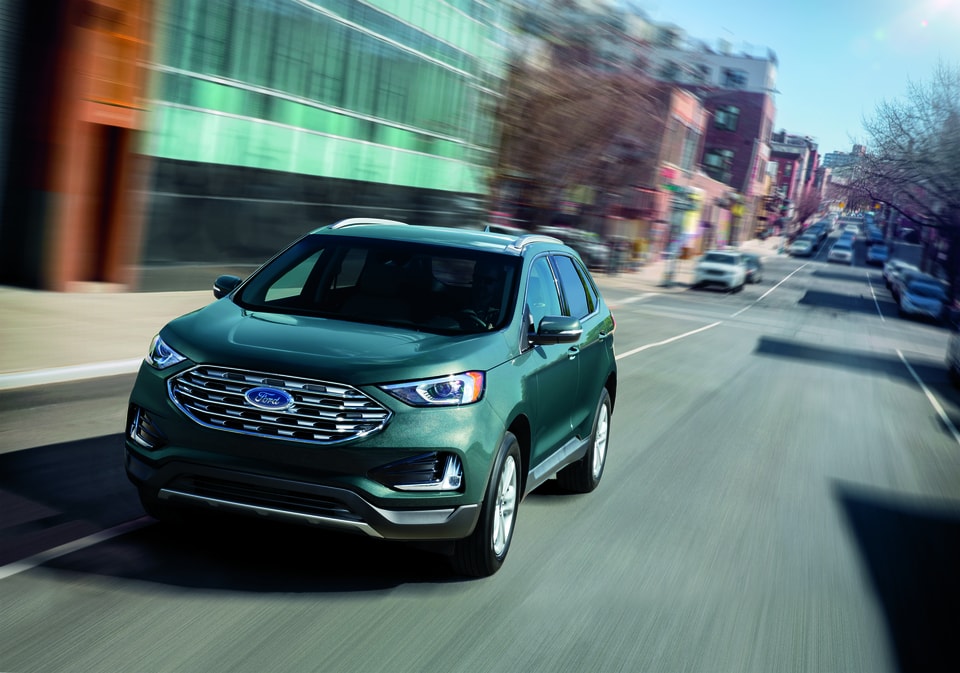 New Ford Edge for Sale in Metro Detroit
The new Ford Edge is a comfortable midsize crossover that's equally spacious and quiet. High-tech features highlight this new Ford SUV. Its SYNC®4 infotainment system includes a 12-inch touchscreen, Alexa compatibility, Wi-Fi, and Apple CarPlay® and Android Auto™ integration that works side-by-side with the Waze traffic and navigation app. Rear passengers enjoy a generous 40.6 inches of legroom. Ford Co-Pilot360™ is standard and its engine choices are a twin-turbocharged V6 or a turbocharged inline-4.
Shop Ford Edge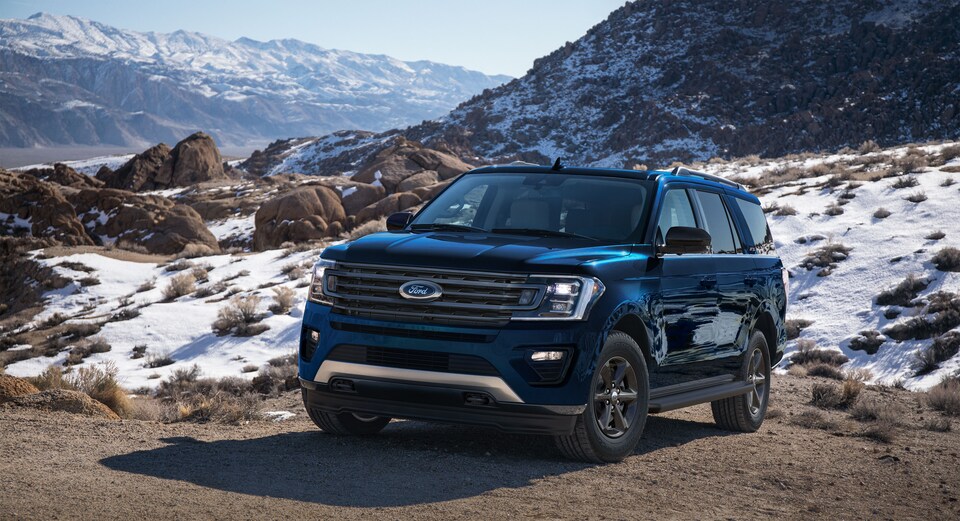 Live Big in a New Ford Expedition for Sale in Livonia, MI
Larger Michigan families can appreciate the new Ford Expedition, a full-size SUV that seats eight passengers. It's super spacious, offering plenty of room for passengers and their cargo. Ford Co-Pilot360™ is standard. It's well-equipped and powerful, with a 3.5-liter twin-turbocharged V6 engine producing 375 horsepower, 470 pound-feet of torque and a maximum towing capacity of 9,300 pounds. The Ford Expedition Max offers even more cargo capacity at 121.5 cubic feet.
Shop Ford Expedition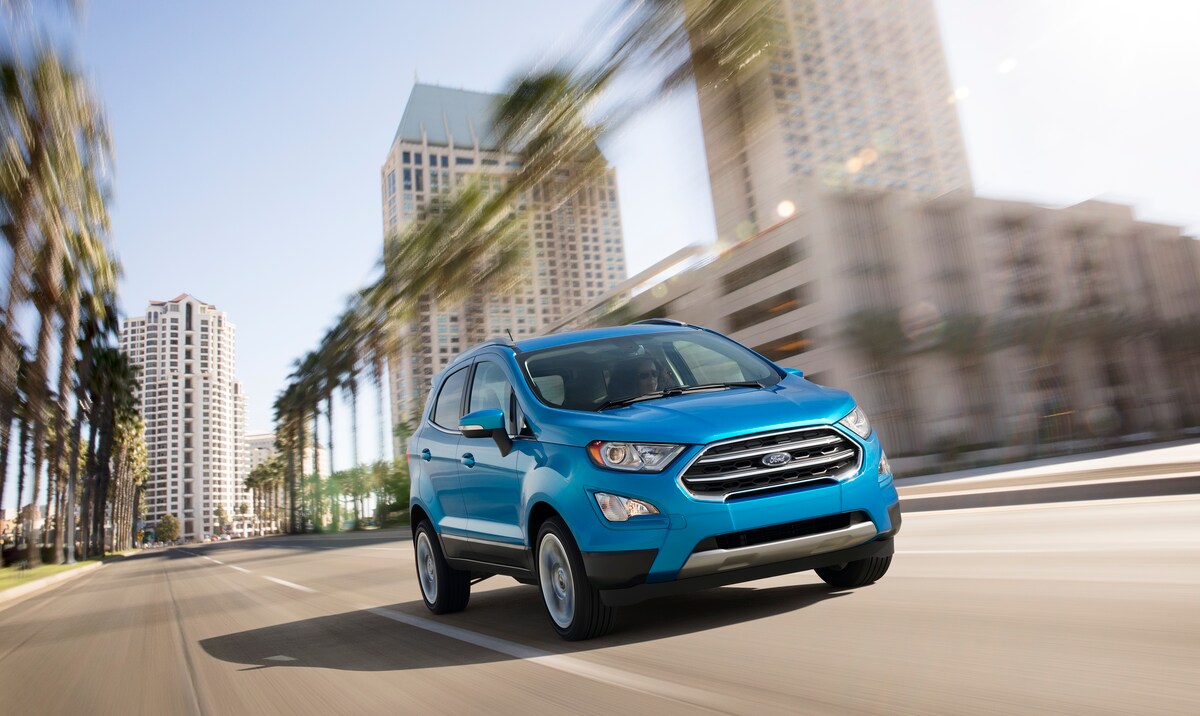 New Ford EcoSport for Sale
Metro Detroit commuters looking for a smaller crossover will enjoy Ford's subcompact SUV, the new Ford EcoSport. SYNC®3 infotainment and all-wheel drive are available features. The Ford EcoSport performs best on twisting roads, where its suspension and steering can excel.
Shop Ford EcoSport
Test Drive a New Ford SUV in Livonia, MI
No matter which new Ford SUV you pick out, our Ford dealership in Livonia, MI has a team of sales experts eager to answer all your questions and support your SUV search. Contact us with a call or click to set up your Ford SUV test drive. We can't wait to greet you at Bill Brown Ford!