Explore The Best Sights In Michigan At The Inaugural Tour De Livonia Biking Event Sunday, September 18th, At Bicentennial Park!
Calling all biking enthusiasts, end your summer off right with a relaxing and fun morning tour of Livonia, Michigan. In this non-competitive event, participants will wind their way through scenic routes seeing beautiful parks, neighborhoods, golf courses, and local Livonia Landmarks. Cycling enthusiasts can choose from two different courses ensuring family-friendly options for everyone. Sunday, September 18th, the inaugural Tour de Livonia will take place at Bicentennial Park located at 36000 W Seven Mile Rd, Livonia, MI 48152. Proceeds from the event will benefit the Livonia Kids and Families organization. Learn more about the route and how to register below!  
Tour De Livonia Route
Get ready for Livonia's first city-wide bike ride, known as the Tour de Livonia, this upcoming Sunday, September 18th. Bikers can choose from the 17-mile course for ages 16 and older that starts at 9 a.m with anticipated speeds of 9-12 mph. There is also a 6-mile course for all ages that begins at 9:30 a.m with anticipated speeds of 5-7 mph. Participants who opt for the entire course will have access to a break station at Alpha USA located at 33375 Glendale Street near Farmington Road. Whether you opt for the family-friendly route or the more advanced 17-mile track, each course will take riders through some of Livonia's most iconic sites. Riders of all ages and skill levels can enjoy the ride, especially through Harry Tatigian Park, located behind Stevenson High School, which will take you through a trail surrounded by a wall of trees. Other locations on the route include Rotary Park, Civic Drive, Buchanan Elementary, Eddie Edgar Ice Arena, Ford Field, Greenmead Historical Village, and more. Both courses plan to head south on Wayne Road, starting in the same direction. Unfortunately, this is a training-wheel-free event, and helmets are required for all participants.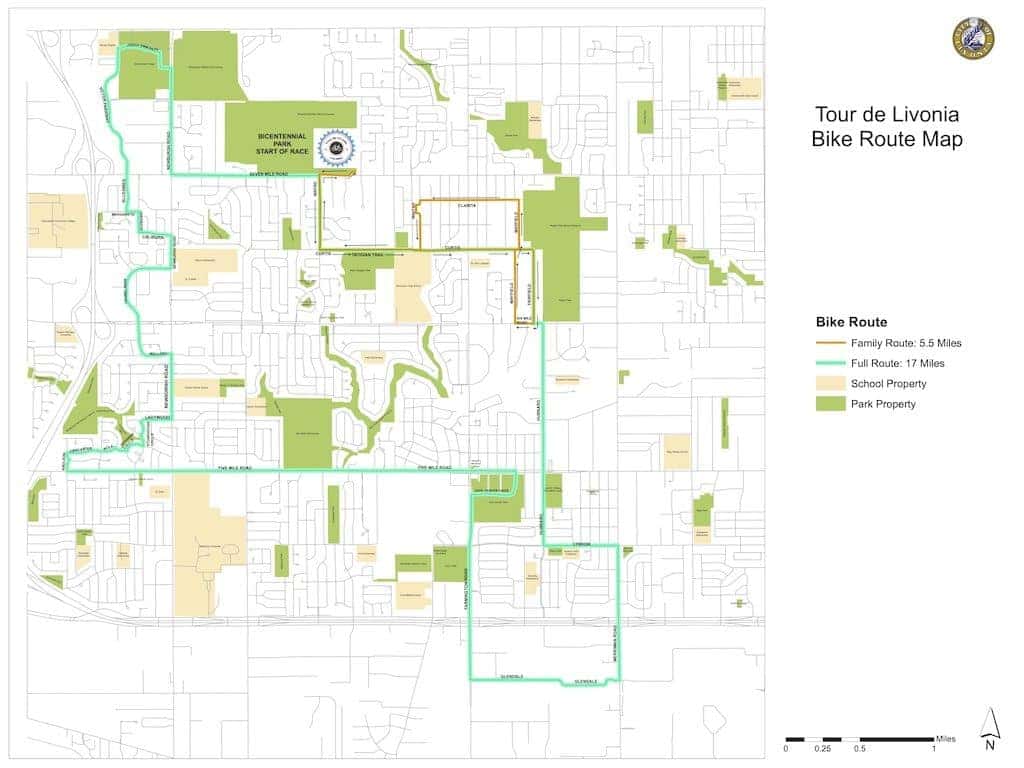 How to Register for Tour De Livonia 
The last day to register online for this year's 2022 Tour De Livonia is 10 p.m. on September 16th. The fee for the 17-mile course is $30, and the family-friendly route costs $20 per person. If you registered before August 31st, riders are guaranteed an event T-shirt. Once registered, Packet pickup is from 3-7 p.m Thursday, September 15th, in the lobby of the Kirksey Recreation Center. If you are unable to make this time frame, packet pickup and onsite registration will also be available at 8 a.m. before the event begins at Bicentennial Park. You can register online here at Livonia Parks & Recreation. 
This past week, Bill Brown Ford did our own little Pre-Tour De Livonia in an all-new 2022 Ford Escape, where we checked out the course and some of the fun spots riders will get to see on the route. 
Bike Rack for a Ford Escape
When it comes to looking for the perfect Ford SUV for every adventure, regardless of the season, the Escape checks all the boxes. Drivers will appreciate the ample cargo space, bike rack accessory capabilities, performance, and state-of-the-art interior features and technology.
Outdoor and biking enthusiasts can easily attach their bike rack to the back of their Ford Escape, as seen in the exampe photo of the 2022 Ford Edge below. At Bill Brown Ford, we have serval employees and customers who love to hike and ride their bikes through the rigorous Michigan terrain or take a casual Saturday ride around local Metro Detroit parks. Therefore, we know a thing or two about the best bike racks for the Ford Escape. The most popular option for durability and budget is the IKURAM 4-Bike Rack. 
It can hold a maximum of 4 bikes of any model, up to 140 lbs in weight, and is made from lightweight, durable materials, offering a lifetime warranty. With the tools provided, this bike rack can be bolted to your Ford Escape's receiving hitch in under 10 minutes. Accessibility to your vehicle without having to remove the frame is crucial, and with the IKURAM 4-Bike Rack, you won't have to worry. The main arm can be moved freely, allowing you to add and remove bikes as you please while giving you access to your boot. If you are in the market for a new or used Ford, Bill Brown Ford is Livonia's preferred Ford dealer. Check out our available on-lot inventory ready for immediate delivery, or schedule a test drive today!