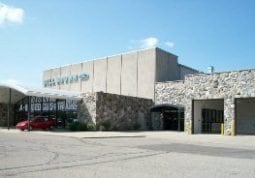 Expert Collision Repair at our Livonia Auto Body Shop Gets You Back on the Road Faster
Accidents happen--and if you find yourself on the wrong end of a fender-bender in Livonia, or a fallen tree limb, or a wayward shopping cart in a parking lot in Farmington, Redford or Westland, then professional collision repair is in your near future. The body shop at Bill Brown Ford has your back. If you've been in an accident or your car has suffered body damage, you should only need to worry about getting your life back on track. We'll do the rest.
Our state-of-the-art collision repair center provides expert technical support for frame work, front-end alignment service, dent and ring repair, windshield repair or replacement, frame straightening, suspension work, post-collision detailing, color matching for exterior paint, and more. By using genuine auto parts and model-specific Ford accessories directly from our parts store, many of these repairs can be done in-house without needing to order additional parts. We can even work with your insurance company to make sure that your policy covers the maximum amount--possibly helping you save hundreds of dollars out of pocket.
If you only have basic maintenance needs, like oil changes, break repair, and minor auto detailing, contact the service center at Bill Brown Ford--but if tough damage, dings and dents, or a warped frame is haunting your everyday life, it's time to contact your local collision repair center near Farmington, Redford and Westland. We'll get you back on track, fast.
Schedule a service appointment online to get the process started. Auto body repair for your frame or chassis isn't something you want to put off--let the team at Bill Brown Ford's auto body shop help you get your vehicle back, and your life back. If you'd prefer to get a quote or an estimate for collision repair, please give us a call.