Ford Lease Pull Ahead in Michigan
Upgrade to a New Ford with Our Ford Lease Pull Ahead Program
Here at Bill Brown Ford, you may be able to end your current lease early through our Ford Lease Pull Ahead Program. This program enables you to end your Ford lease a bit ahead of schedule, allowing you to upgrade to a new Ford sooner without being penalized for terminating your lease early. If you're coming up on the end of your lease term, feel free to get in touch with our Livonia Ford specialists to learn more about your eligibility for our Lease Pull Ahead Program!
Take Advantage of Our Ford Lease Pull Ahead Program
If you love driving the latest & greatest in new Ford models, leasing is already a great option. Leasing enables you to drive a new Ford model every few years and save on monthly payments, so it's a popular option for drivers who want to get the most out of the Ford lineup. Whether you choose to buy or lease, sometimes a driver might want to expedite the process of transitioning to a new vehicle and upgrading their ride.
That's where our Ford Lease Pull Ahead Program comes into play. When you take advantage of this program, you can dive right into the process of driving home in a new Ford without the drawbacks that can typically surround ending a lease early. If you can't wait to get your hands on the latest Ford F-150 or Ford Escape, then this program might be the right move for you here at our Ford dealership in Livonia, MI.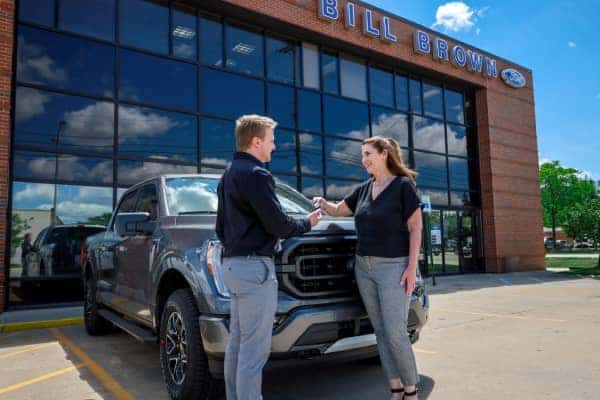 Ford Lease Specials at Bill Brown in Livonia, MI
If you're looking to maximize savings on your next Ford lease, you can find an exceptional selection of opportunities here at our Ford dealership serving the Metro Detroit area. Shop our Ford lease offers to lock in your lower monthly payment today (734) 237-3832.
Check If You're Eligible For Our Ford Lease Pull Ahead Program