New Ford Mustang Mach-E in Livonia, Michigan
An American icon has been reborn with a twist. Adding to the Mustang lineup for the first time in history, the Mustang Mach-E marks a new chapter for Ford. Altering not only the way the Mustang produces power but also the mounted body above. While still retaining the soul we've all come to love, the Mach-E sits as the first four-door all-electric Mustang.

Starting at $43,895 with a range of up to 314 miles and room for five people, the Mustang Mach-E is undoubtedly a compelling option for your next electric car.
Check out the New Ford Mustang Mach-E In Livonia, MI
The new Mustang Mach-E is available at Bill Brown Ford, and it comes with no shortage of fanfare as the first all-electric vehicle in the Ford lineup. This revolutionary model with the classic Mustang name attached delivers in both performance and practicality.
Bill Brown Ford is the best dealership in the country to buy or reserve your New Mustang Mach-E. We have developed a process that ensures your order is scheduled and prioritized with Ford for the fastest delivery possible. Let our Michigan Ford dealership make your purchasing process seamless by reaching out to us at (734) 237-3832 today.
The Mustang Mach-E is eligible for a $7500 federal tax credit, and they are AXZ Plan eligible.
Exterior
Switching over to a crossover body style, the Mustang Mach-E is a far cry from the coupe silhouette seen throughout the history of the Mustang. Despite the apparent difference in vehicle segment, the electric Mustang does well to evoke some of the same stylings as the 54 years' worth of Mustangs before it.
The Mach-E features the same sloping roofline, long hood, aggressive headlights, and most importantly, the signature tri-bar taillights. Along with these familiar details, the Mustang Mach-E carries a more sleek appearance to modernize the car and help with aerodynamics, an all-important factor when it comes to maximizing range.
With no need for a grille in an EV, the front has a polished finish with a trim outlining what once was an important mechanical aspect. The Mustang Mach-E GT version goes the extra mile to make this portion of the front look traditional yet aggressive.
With no engine, the front of the Mach-E now boasts 4.7 cubic feet of extra storage. As a bonus, the floor of the Mustang Mach-E frunk is drainable, allowing for easy cleaning and wet storage.
To further enhance aerodynamics, Ford has made an innovative choice in terms of door handles. The absence of handles, boosting the Mustang Mach-E's flawless design, presses towards a more technologically advanced landscape. Distinguishing itself from the rest, the new electric car opts for an "E-latch." The illuminated push button and small handle are used side-by-side with keyless entry or PAAK to make entering the new Mustang a soothing experience.
Additionally, fans of the attention-grabbing Cyber Orange Metallic Tri-Coat and Grabber Blue Metallic will be thrilled to know that the colors are available on all trim levels.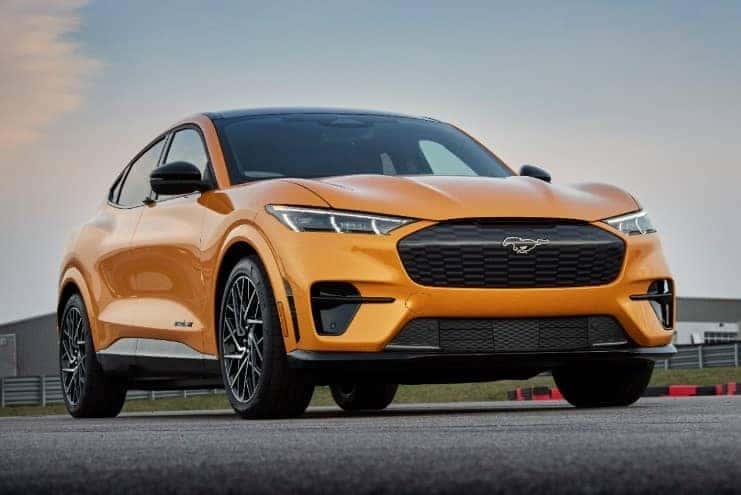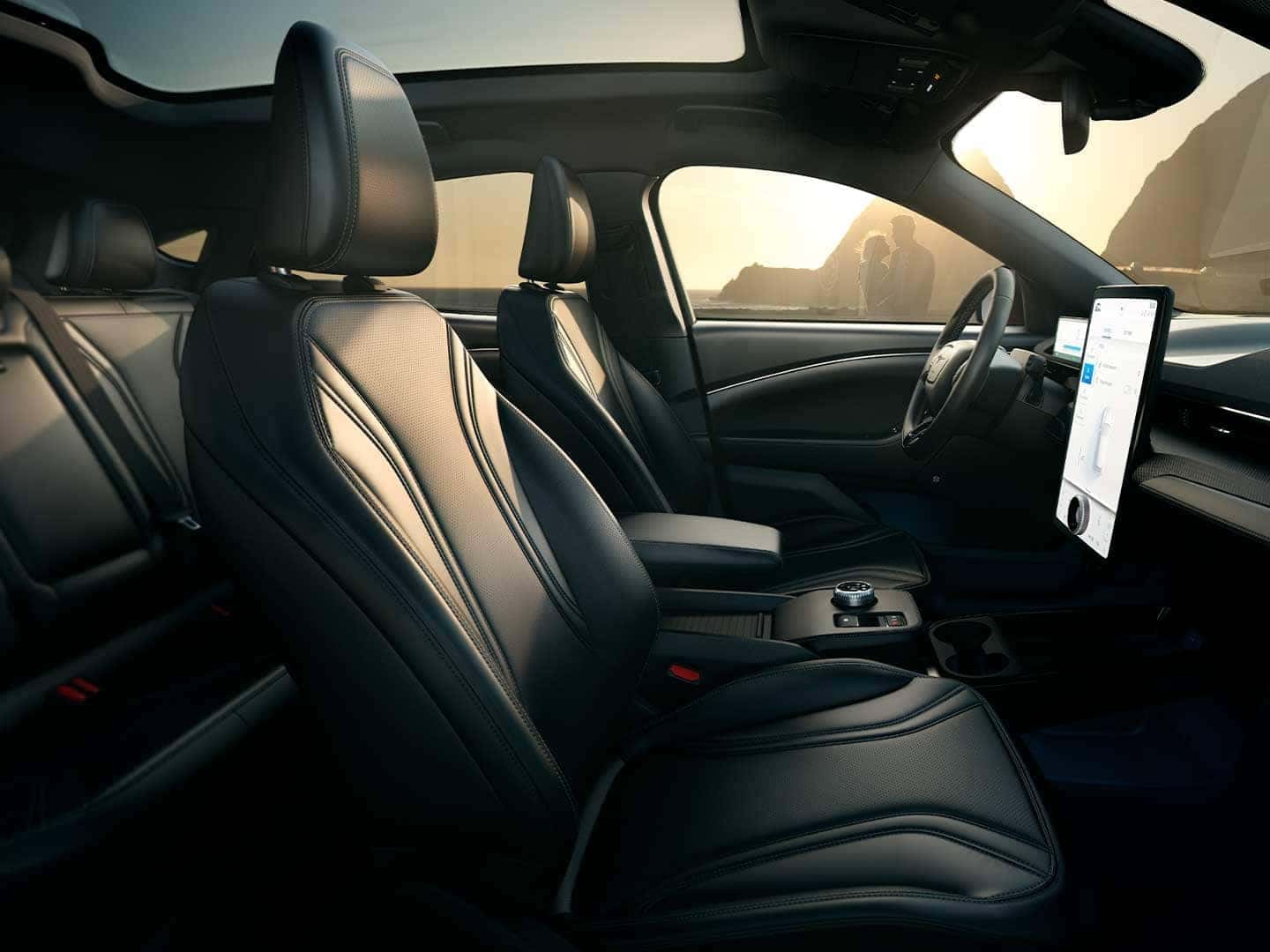 Interior
Similar to the exterior, the interior of the Mustang Mach-E exhibits a heightened appearance. The center console has been updated to a single 15.5-inch touch display powered by Ford's SYNC 4A technology to minimize looks while maximizing functions.

The traditional gauge cluster has seen a similar modernization and is now housed within a 10.2-inch high-res display sitting in its usual spot, behind the steering wheel.

Overhead you will find an optional fixed-glass panoramic roof, the largest glass roof in any Ford. Using a high-tech low-emissivity coating, the panoramic roof allows a brightened interior while maintaining the cabin cool during the summer and warm during the winters.

The Mustang Mach-E's trunk offers 29.7 cubic feet of space. When the rear seats are folded, the Mach-E boasts 59.7 cubic feet of space, plus the additional 4.7 cubic feet in the frunk.
Technology
The Mustang Mach-E carries Ford's latest SYNC 4A technology, allowing you to stay connected through a multitude of apps. Apple CarPlay, Android Auto, and Amazon Alexa are just some of the many features available in SYNC 4A.

With increased effort in providing a competent software experience, the Mach-E will be capable of receiving over-the-air software updates. Not only will these updates improve features, but they also will add new features to compliment the ownership experience further.

While offering the latest driver's assist technology, the Mustang Mach-E also comes fit with Ford BlueCruise. When using Intelligent Adaptive Cruise Control, BlueCruise adds the function to keep vehicles centered in the lane. As a result, Mustang Mach-E drivers will be some of the first to experience actual hands-free driving on over 100,000 miles of pre-mapped highways within the US and Canada.

Standard on every Mustang Mach-E model is Ford Co-Pilot360 2.0, adding features like Auto High Beams, Blind Spot Information System (BLIS) with Cross-Traffic Alert, Lane-Keeping System (Lane-Keeping Aid, Lane-Keeping Alert, Driver Alert), Pre-Collision Assist with Automatic Emergency Braking (AEB), Pedestrian Detection, Forward Collision Warning, and Dynamic Brake Support.

To further expand the driving experience, Ford Co-Pilot360 Assist 2.0 brings Intelligent Adaptive Cruise Control with Stop-and-Go, Lane Centering, Speed Sign Recognition, Evasive Steering Assist, and Intersection Assist.
Charging
Offered with the Mustang Mach-E is the Ford Connected Charge Station. Using this charger at home, the Mach-E will gain about 28 miles of range every hour, ensuring a full charge at the start of every day.
While on the road, the Mach-E takes advantage of the 63,000 chargers within the FordPass network. The navigation system itself accounts for your estimated range and routes you to the nearest charger when required. Using a 150 kW DC fast charger, a Standard-Range Mach-E can charge 10%-80% in about 45 minutes.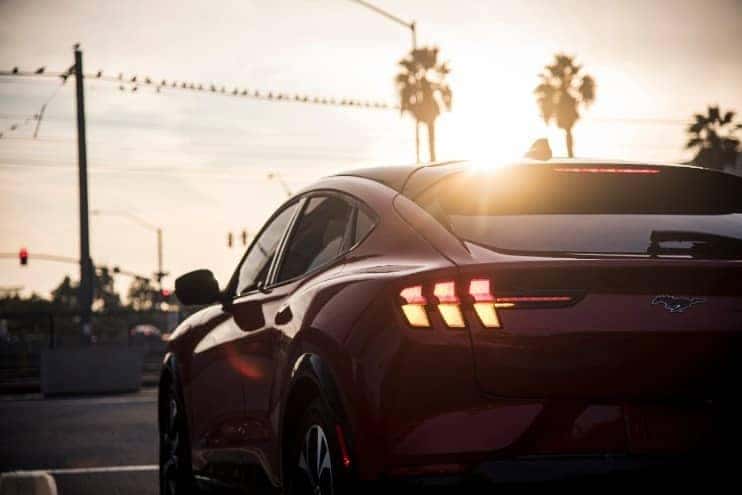 Performance
The Mustang Mach-E comes in four different trims: Select, Premium, California Route 1, and GT. Knowing the weight that the Mustang name carries, Ford did its best to offer an electric car worthy of its namesake.
The Mach-E is offered in two battery sizes, a Standard-Range (70 kWh) and Extended-Range (91 kWh), a slight increase over the 68 kWh and 88 kWh batteries in the 2021 models. Additionally, the Mustang Mach-E is for sale in both a single rear motor configuration and dual-motor AWD configuration. With the help of regenerative braking, the Mustang Mach-E range sits anywhere between 224 miles and 314 miles, depending on battery and drivetrain configuration.
Select
Premium
California RT 1
GT
Battery & Range
SR RWD: 230 mi
SR AWD: 211 mi
SR RWD: 230 mi
SR AWD: 211 mi
ER RWD: 300 mi
ER AWD: 270 mi
ER RWD: 305 mi
ER AWD: 250 mi
Performance: 235 mi
0-60 MPH
SR RWD: 5.8 s
SR AWD: 5.2 s
ER RWD: 6.1 s
ER AWD: 4.8 s
SR RWD: 5.8 s
SR AWD: 5.2 s
ER RWD: 6.1 s
GT: 3.8 s
Performance: 3.5s
Peak HP
266 HP
SR AWD: 266 HP
SR RWD: 266 HP
ER RWD: 290 HP
ER AWD: 346 HP
290 HP
480 HP
MSRP
$42,895
$47,600
$50,400
$59,900
The Mach-E comes with a base setup that offers 266 horsepower and 317 pound-feet of torque. All-wheel-drive models come with up to 428 pound-feet of torque. The Mustang Mach-E GT has the highest regard for performance specs, with 480 horsepower and 600 lb.-ft. of torque. While reaching 0-60 in just 3.8 seconds, this electric crossover can take on some of the best gasoline counterparts.

An even more powerful version of the GT is available as the GT Performance Edition. This version includes a bump to the torque, which is increased to 634 lb-ft. This allows the GT Performance Edition to shave off even more time and reach 60 mph in only 3.5 seconds.
The standard Mustang Mach-E price starts as low as $43,895, or $36,395, after accounting for the possible Federal Tax Credit. With the Mustang Mach-E now for sale, test drives and custom orders are currently available at your local Metro Detroit Ford Dealership.
Purchase Your Mustang Mach-E With Bill Brown Ford
Here at Bill Brown Ford, we have a dedicated EV team ready to work with you and answer any questions you might have throughout your purchase process. To ensure a seamless process, you can reach our EV team directly at [email protected] for a quick response to all your EV questions.
Order Online Here or call us at (734) 237-3832