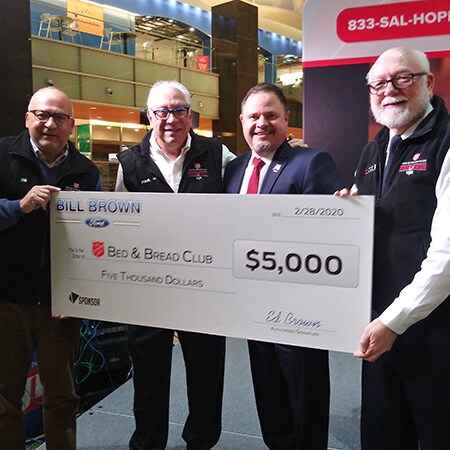 Since 1914 Bill Brown Ford has been committed to supporting the Metro Detroit Area and groups and individuals across the State of Michigan. Today, our efforts include a dedicated focus on Livonia, Michigan and the surrounding areas of Canton, Novi, Westland, Farmington, Redford, South Lyon, Dearborn, Plymouth, Southfield, Northville, Ann Arbor, and Metro Detroit.
As the largest AXZ Plan dealership in the country we provide more discounts to Ford employees than any other dealership in Michigan and across the US. We fully accept the responsibility that comes with this designation that is why it is so important for us to not only be engrossed in our towns - but help the community and our Bill Brown Ford team.
Basically, helping Ford employees and vendors and their extended families is at the core of the Bill Brown Ford dealership. Helping people is what we do.
So our charity strategy is the same - we're focused on people. As we do every day for our customers in acquiring their perfect Ford vehicles, we are committed to helping charities and organizations that are focused on the local people of Michigan and their individual needs.
We found that we can make a difference and impact our community the most by focusing our efforts on those organizations that feed, educate, clothe, and improve the health and welfare of every member of our community. As the community need expanded in the Spring of 2020 we stepped up our efforts across all of the organizations we support and we added a new program to support music and musicians in Livonia and across the Detroit Metro Area. Below is a list of the organizations we currently support and some of the individuals we have been working with and providing direct assistance to.