Explore Quick & Easy Charging Options for the F-150 Lightning at Bill Brown Ford
The Ford F-150 Lightning is the smartest, most innovative F-150 that Ford has ever built. With a starting price of less than $40,000, this truck is loaded with software updates making it better over time.
The maximum available payload capacity of the F-150 Lightning pickup has been increased from the original targets. Properly equipped F-150 Lightning pickups can now haul an extra 235 pounds for a total of 2,235 pounds of maximum available towing capacity.
The extended-range battery pack produces 580 horsepower. The standard-range battery pack delivers 452 horsepower, up from the original 426 promised. Both packs are capable of producing 775 lbs.-ft. of torque, more than any other F-150 pickup built with Ford Tough capability. When charging your F-150 Lightning, Ford makes it easy with its flexible options.
Ford Charge Station Pro
The Ford Charge Station Pro, developed in collaboration with Siemens eMobility and exclusive to Ford, can provide intelligent backup power for your home in the event of an outage. Unlike other universal bidirectional chargers, the Charge Station Pro is rated at a maximum of 80-Amps or 19.2 kilowatts, making it one of the most potent single-phase level-2 chargers available to charge your EV at home.
The Charge Station Pro is Bluetooth and Wi-Fi-capable for easy setup, monitoring, and control via the FordPass App. The App provides detailed charging and vehicle information, including charge scheduling and remote operation. The charger is weatherproof with an Industry-standard CCS connector compatible with Ford and other electric vehicles.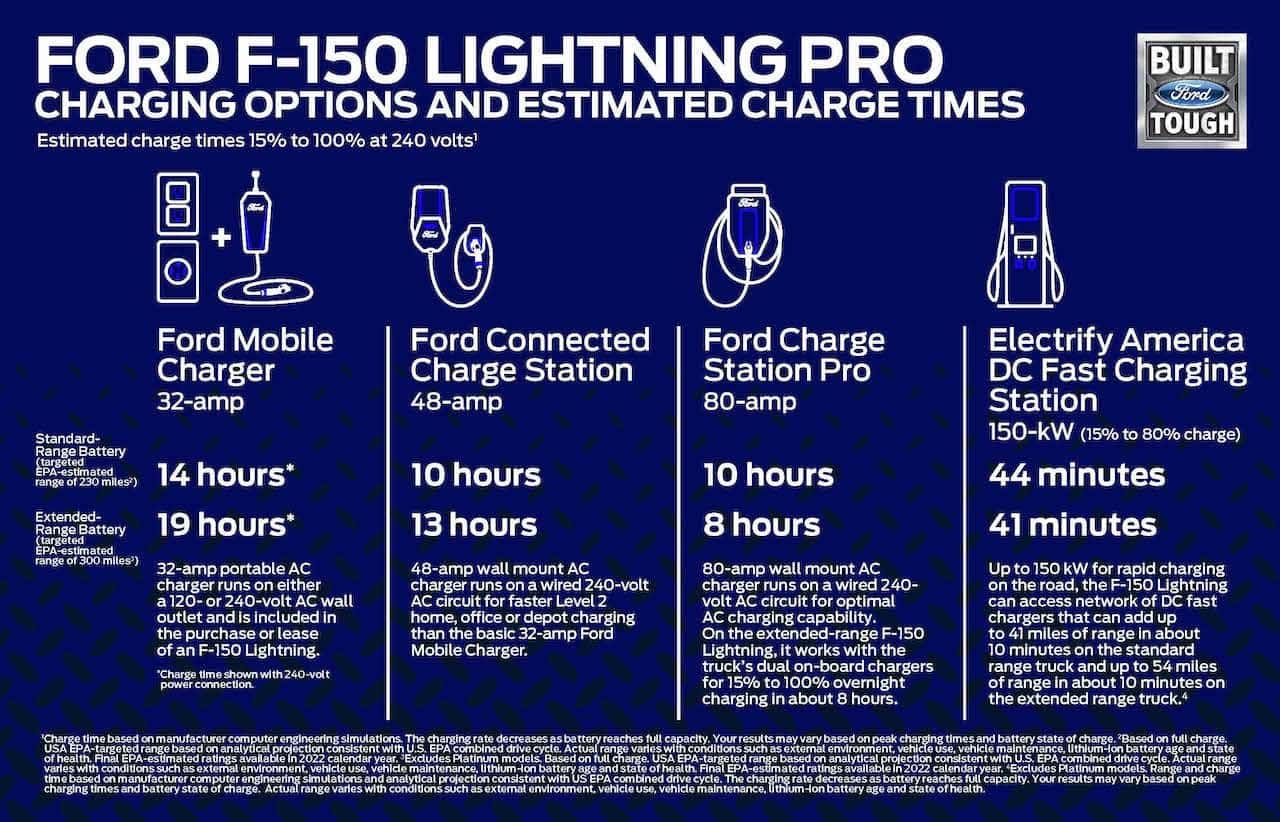 Explore Charging Options for the 2022 Ford F-150 Lightning With Sean and Amanda from Our Bronco Life!
Learn about other ways to charge your F-150 Lightning, including DC fast chargers, by Electrify America. Charge your EV on the go with the fastest chargers on the market by simply tapping to pay. Bill Brown Ford ambassadors, My Bronco Life also explains how you can be a Ford charging angle—demonstrating how you can use your pro power on board to plug in your charge port to charge up another electric vehicle.
Save Your Spot at Bill Brown Ford in Livonia, MI
Order banks for the 2022 F-150 Lightning are closed, but you can still be among the first to own this exciting new all-electric Ford truck. Reserve your 2023 F-150 Lightning and SAVE YOUR SPOT exclusively at Bill Brown Ford in Livonia, Michigan, today. Order banks are set to reopen later this year. Don't wait!