The 2023 Ford Mustang Mach-E—Charging, Range, Mileage, & Acceleration
The Ford Mustang Mach-E is an all-electric luxury SUV and spectacular addition to the company's sterling EV lineup. The vehicle is unquestionably the right step toward a sustainable future as it blends the outstanding performance and rich legacy of the Mustang badge with cutting-edge EV technology. This post will go over the different EV charging methods that can be used, along with the impressive range, mileage, and acceleration available on the Mach-E.
Charging the Mustang Mach E
The Mustang Mach-E can be charged in various ways, ensuring effortless charging for all EV drivers, whether you are at home or on the road. You'll get a Ford Mobile Charger for at-home charging when you buy a Ford electric vehicle. The charger is compatible with both 120V and 240V outlets, but the charging time is significantly different.
Typically, a 120-volt household outlet extends your driving range by 3 to 4 miles per hour at Level 1 charging. A preferable alternative to charging your Mach-E is a Level 2 public charging station or a 240-volt outlet. This method charges the EV up to 9X faster than a regular wall outlet, adding about 25 miles of range per hour. You can also opt for Ford Connected Charge Station, offered as an additional purchase to the Mach-E. The high-amperage charger can fully replenish the battery in roughly 11 hours and add 28 miles of range every hour. Thanks to Ford's innovative software, you can program your electric car to charge during off-peak hours, saving both money and energy.
A Level 3 DC Fast charging station is the quickest and most convenient way to charge your Mach-E. Thanks to DC fast chargers, charging on the road is significantly quicker, allowing about 60 miles of range to be added to a Mach-E within ten minutes or 80% charge in less than 30 minutes.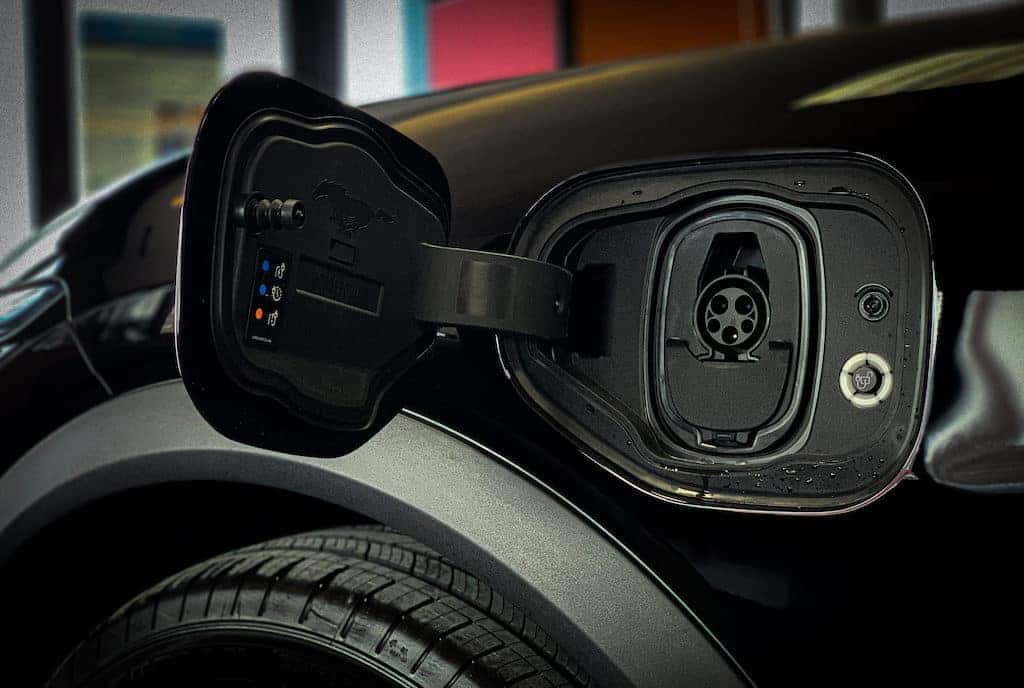 FordPass EV Charging Network
You can rely on the FordPass Charging Network to find charging locations when on the road, thanks to an easy-to-use map and a single payment source via the FordPass app. Plan your next road trip with the help of FordPass Power My Trip, a feature that automatically considers where you'll need to stop for a quick charge and minimizes downtime, so you don't have to think twice about your next charge. You must activate FordPass Connect; connect your vehicle to the FordPass App, and start your charging services on Ford.com/ConnectedServices. Enter your destination, and go!
Is Maintenance on a Ford Mustang Mach E Expensive?
The Mustang Mach-E's scheduled maintenance cost is estimated to be 38% less than the average cost of a gas-powered 2020 Escape over five years/75,000 miles. When it comes to fuel savings, based on standard fuel prices and vehicle usage assumptions, there is an estimated savings of $893 based on 10,000 miles per year for the Mustang Mach-E. Customize your savings and learn more about the annual estimated EV costs for the Mustang Mach-E.
Mustang Mach E Range
The Mach-E has massively impressive range figures. Depending on the size of the battery pack and the type of electric motor used, the class-leading electric SUV offers an EPA-estimated range of 211 to 305 miles. These numbers get even better with the range-topping California Route 1 trim, which delivers 312 miles of range with all-wheel drive and 314 miles of range with rear-wheel drive.
The Mustang Mach-E comes with two different battery packs. The 91- kWh extended-range battery is perfect for those who love higher top-end speed and want to extract a bit more performance from their vehicle. The 70-kWh standard-range battery is also no slouch and achieves astounding numbers that are unfathomable for other EVs. The AWD standard-range models can travel up to 224 miles when fully charged, and the range gets extended to 247 miles when paired with RWD. On the other hand, the extended-range models offer 277 miles of range with AWD and 303 miles with RWD.
Mustang Mach E MPGe
A masterpiece of modern engineering, the Mach-E is equipped with ground-breaking EV technology, which is evident from its MPGe rating. The top-of-the-line electric SUV offers 103 MPGe for combined city/highway driving in its most efficient configuration.
Acceleration
The Ford Mustang Mach-E is known for its jaw-dropping performance, so if you're considering buying one, you're undoubtedly looking for lightning-quick acceleration. The GT and GT Performance edition reach from 0 to 60 in just 3.8 and 3.5 seconds, respectively, while the other variants of the Ford Mustang Mach- E achieve this benchmark in five to six seconds.
No matter which variant you opt for, you will get an insanely quick SUV with chart-topping acceleration figures.
What's New for the 2023 Mustang Mach E?
For the 2023 model year, a Nite Pony package will join the Mustang Mach- E lineup, giving the SUV a more menacing and stand-out appearance. The package will include a black-painted roof, all-black wheels, and black front and rear bumpers.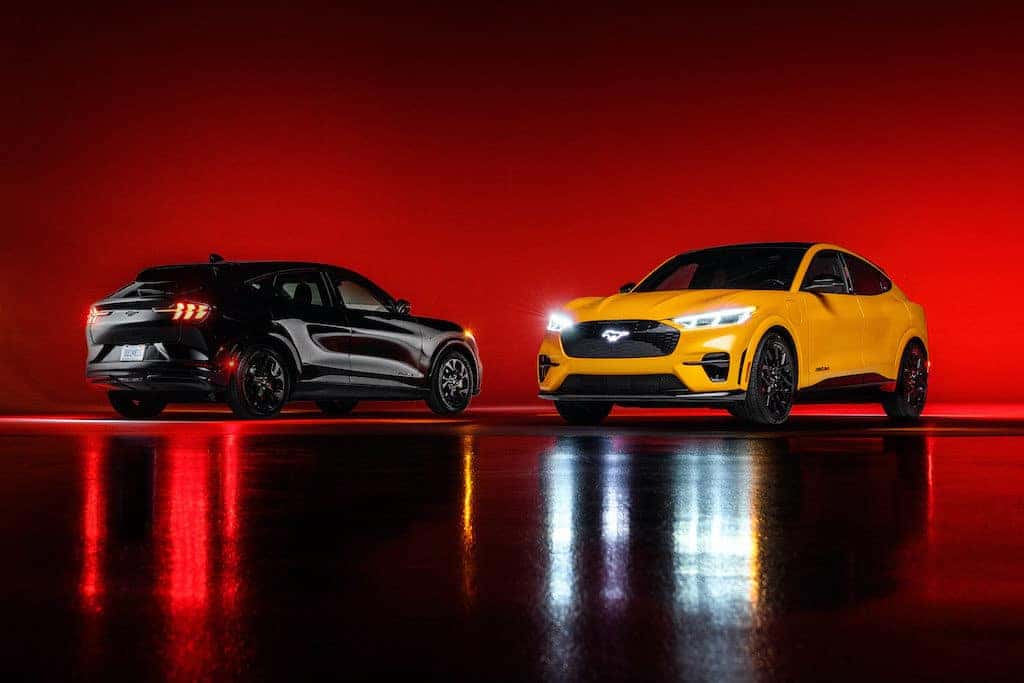 Reserve the 2023 Mach-E at Bill Brown Ford in Livonia, MI
Order banks for the 2022 all-electric Mustang are closed, but you can still be among the first to own this exciting electric SUV. Reserve your 2023 Ford Mustang Mach-E today, exclusively with Bill Brown Ford's SAVE YOUR SPOT priority list. Order banks are set to reopen later this year. We look forward to getting you behind the wheel of your dream Ford EV.