Ford Super Duty Trucks in Livonia, MI

Find Your Workhorse with a New Ford Super Duty
If you're on the hunt for a truck ready to get some serious work done, a new Ford F-250 or F-350 Super Duty could be the vehicle for you. With powerful engine options and massive towing capabilities, these Ford trucks are ready to hit the roads of Livonia and Westland, MI. Our team is full of heavy duty truck experts, with a dedicated Fleet Center to assist businesses with heavy duty truck & chassis cab truck solutions. That said, whether you're looking at a new Super Duty as a work truck or a daily driver, our vast selection of new Ford trucks is sure to have something for you.
Discover What Ford can Do
With the ability to tow up to 32,000 pounds, the Ford F-250 Superduty is a truck to take seriously. But towing massive amounts isn't the only thing this beast can do. The Ford F-250 can also haul up to six people and be fitted with leather and wood trim. Adding to a premium feel. A 6.2-liter V8 is the base engine while a 6.7-liter turbodiesel is available if you need some extra power.
If you need something even more capable, the new Ford F-350 Superduty is sure to be the tool for the job. Whether you're towing a gooseneck trailer or hauling a heavy payload, this truck is ready to go. You're sure to be impressed by what you can get done in a Ford F-350 Superduty. All while feeling comfortable in Ford's top-of-the-line trim.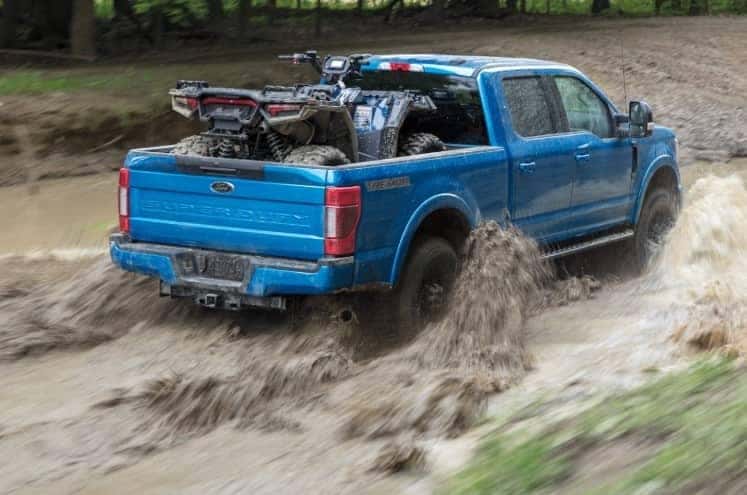 Drive a Truck You Love
If you're ready to find your perfect truck near Redford, MI or Farmington, MI, the Super Duty lineup from Ford could be the solution to your problem. You owe it to yourself to get behind the wheel of a new Ford Super Duty for a test drive. Visit our dealership today and discover a truck that's ready to perform at the job site.