Bill Brown Ford is Proud to Support the Stone Soup Bronco Project Hosted by Big Jim's House
This year Detroit's Classic Rock radio station, 94.7 WCSX, gave listeners the chance to vote on which classic vehicle Big Jim's House would bring back to life for charity. Voters chose to rebuild a 1974 Ford Bronco from the ground up, beating out other popular classics such as the 1984 Blazer, 81′ Z-28 with T-tops, 1988 Ford Thunderbird, and a 1998 California Mustang GT. 
The Stone Soup Bronco Project has been bringing this vintage Bronco back to life solely on donations from the community and local sponsors. Big Jim's House has kept followers updated every step, even letting people vote on the color and other significant parts of the Bronco's rebuild. The best part about this classic restoration? You can win this fully restored classic '70s Ford Bronco later this year in a raffle. Tickets are only $10, and all proceeds will go to the local Michigan non-profit, Vets Returning Home.
Bill Brown Ford is committed to supporting charities and organizations that help the people of Michigan move forward by focusing our efforts on non-profit organizations that feed, educate, clothe, and improve the health and welfare of our community. Our Livonia Ford Dealer is proud to help sponsor the Stone Soup Bronco Project and our long-standing support of the Vets Returning Home cause. Check out the recent update on the Stone Soup Bronco as we get ready to paint it at Bill Brown Ford's shop. 
Vets Returning Home 
Vets Returning Home is a non-profit organization dedicated to helping veterans transition into stable lives. They aim to end chronic homelessness among veterans in Michigan communities by doing more than simply putting a roof over their heads. Through their "total veteran" approach, they address each individual's needs and ensure they succeed after transitioning back into the community. 
Vets Returning Home is a volunteer-operated 11,000-square-foot facility with 43 beds and a commercial kitchen. 6 of the 43 beds are dedicated to females only. The organization provides stable and sober living quarters for veterans in crisis, as well as aid with job placement, disability benefit connection, legal support, life skills training, and more. Each year, they successfully transition, on average, 250 veterans back into society as a fully functioning community member. Community support has been vital to Vets Returning Home's ability to continue its mission. This year's Stone Soup Bronco Project will help support the invaluable efforts VRH does for our community each year, and Bill Brown Cares is honored to be a part of the cause. 
Stone Soup Bronco Freedom Wrap at Michigan's Woodward Dream Cruise
Big Jim's House Stone Bronco Soup Project will display the restored 74 Bronco with "The Freedom Wrap" at this year's Woodward Dream Cruise. In honor of the men and women who have served this country, the Bronco will have a temporary wrap of nothing but Veterans from around the nation submitted by listeners. The wrap will be removed before being raffled off to its new owner later this year. 
Each year, the Woodward Dream Cruise attracts 1.5 million people and 40,000 classic cars from around the globe. Every summer, North American cruisers from California, Georgia, Canada, and all points in between caravan to Metro Detroit to participate in the world's largest one-day automotive event. Woodward is held annually on the third Saturday in August in Oakland county, involving nine participating communities across southwest Michigan and the Metro Detroit region. This year the Woodward Dream Cruise will take place on August 20th- Check out the official 2022 route map and schedule of events.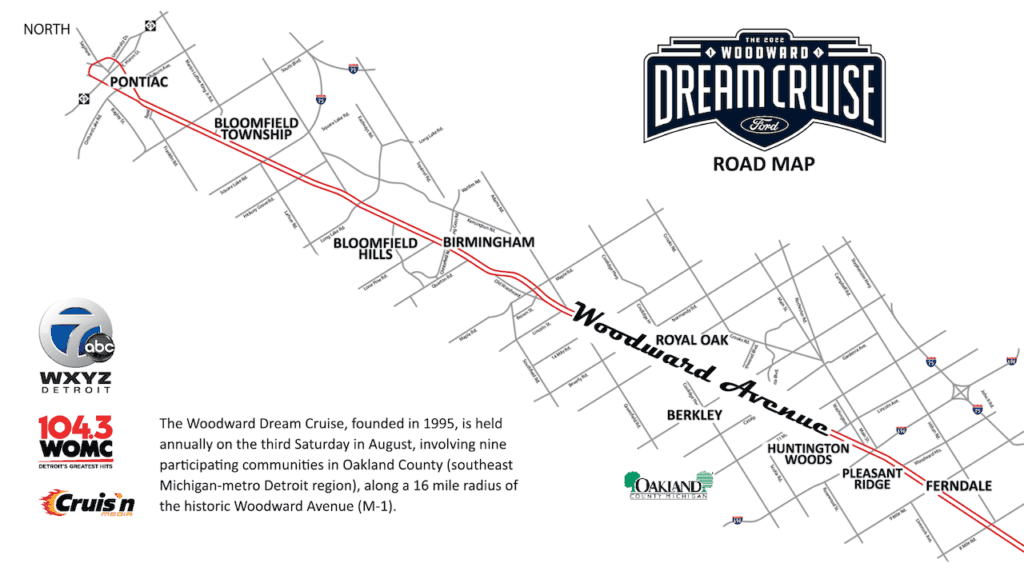 Purchase a Stone Soup Bronco Raffle Ticket Today!
Each $10 entry in the Stone Soup Raffle gives you the chance to win the Fully Restored 1974 Ford Bronco, which will be on display at the Woodward Dream Cruise this August. All proceeds will benefit Vets Returning Home, a non-profit and non-government funded organization dedicated to helping veterans transition into stable lives. Purchase your ticket in a few easy steps by submitting your information HERE.