Ford F-250: Regular Cab vs. SuperCab vs. Crew Cab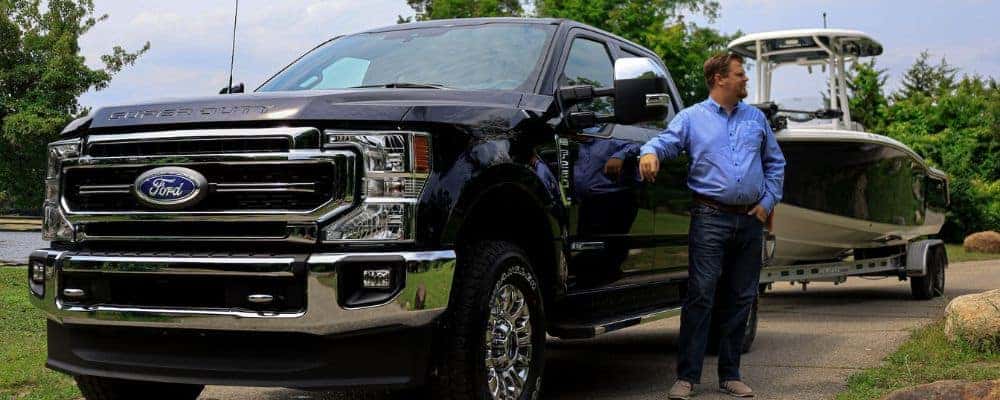 The Ford F-250 has won the hearts of countless truck enthusiasts with its remarkable durability, matchless comfort, and outstanding off-road capabilities. Another reason for the truck's enormous success is its versatility to users and the emphasis that Ford puts on customer needs.
Keeping in mind the requirements and usage of the customers, Ford has designed the super-duty lineup in three different cab configurations — Regular Cab, SuperCab, and Crew Cab. In this article, Bill Brown Ford will compare the F-250's various cab configurations to determine where they differ from each other and what model better suits your needs.
What are the Visual Differences?
You can easily distinguish between the F-250's different cab styles by just looking at the number of doors. A Regular cab features two doors compared to the SuperCab's four. The rear doors on the SuperCab are smaller in size and open backward. The Crew cab comes with four full-size doors, all of which open in the same direction. 
Interior Cargo Space
The F-250's interior cargo space varies with different cab styles. The truck offers up to 52.1 cubic feet of cargo space behind the front row with a Crew cab, 31.6 cubic feet with a SuperCab, and 11.6 cubic feet with a Regular cab. 
Seating and Cabin Capacity
If seating capacity is your top priority when purchasing a truck, Ford has got you covered. The F-250's different cab styles offer different seating configurations, allowing you to choose a vehicle that best suits your needs.
If you don't need to transport a large workforce, the Regular cab, with a seating capacity of three passengers, is perfect for you. The SuperCab is ideal for bigger crews and can easily accommodate six passengers in its cabin. The Crew cab offers the same number of seats as the SuperCab but provides even more space for passengers to relax and enjoy the ride.
A pleasant and comfortable journey can only be guaranteed with adequate cabin space, which Ford has gratefully provided in the F-250. The Regular cab offers 40.8 inches of front headroom and 43.9 inches of front legroom. The SuperCab offers the same front room as the Regular cab, plus an additional 40.3 inches of rear headroom and 33.5 inches of rear legroom.
Truck Bed Options
There are two different bed sizes available for SuperCab and Crew cab, allowing you to choose between a cargo bed that is either 6.75 feet long (80.2 inches) or 8 feet long (96.4 inches). The Regular cab, on the other hand, only offers an 8 feet long bed. 
Regular Cab  

SuperCab  

Bed Size: 6.75 feet or 8 feet

Crew Cab  

Bed Size: 6.75 feet or 8 feet 
Payload Capacity
The F-250 outperforms most of its competitors in terms of payload capacity. The monster of a truck can carry huge amounts of loads without breaking a sweat, enabling its users to transport as much cargo as they want. 
Regular Cab 

Max Payload Capacity: 4,160 lbs. 

SuperCab 

Max Payload Capacity: 3,880 lbs. 

Crew Cab 

Max Payload Capacity: 3,780 lbs. 
Engine Options
Regardless of the cab configuration you choose, three engine options are available for the F-250 producing the horsepower and torque needed for any job. 
A 6.2-liter gasoline V8 producing 385 horsepower and 430 lb-ft of torque

 A 7.3-liter gasoline V8 generating 430 horsepower and 475 lb-ft of torque

A 6.7-liter turbo diesel V8 delivering 475 horsepower and 1,050 lb-ft of torque 
Towing Capacity
It is not an overstatement to say that Ford super-duty trucks are the champions of towing power. The conventional towing capacity of the F-250 is 20,000 lbs., but when properly equipped, it can tow up to 22,800 lbs. Explore the towing capabilities of the various available F-250 engines below:
  6.2L flex-fuel gas V8 

Max. Towing (Conventional): 15,000 lbs. 

Max. Towing (Fifth-Wheel): 15,800 lbs. 
  6.7L Power Stroke V8 turbo diesel 

Max. Towing (Conventional): 20,000 lbs. 

Max. Towing (Fifth-Wheel): 22,800 lbs. 
  7.3L OHV PFI gas V8 

Max. Towing (Conventional): 15,000 lbs. 

Max. Towing (Fifth-Wheel): 19,500 lbs. 
Reserve the 2023 F-250 at Bill Brown Ford in Livonia, Michigan!
Save Your Spot, and reserve your name on Bill Brown Ford's priority list when order banks for the 2023 Ford F-250 open later this year. Saving your spot ensures a seamless and effortless ordering process, increasing your chance of Ford accepting your order. Let our expert commercial sales team get you behind the wheel of your dream Super Duty. Visit us at 32222 Plymouth Rd, Livonia, MI 48150, or contact our local Michigan Ford dealer at (734) 399-4244.