Remembering The Legacy Of Edward Brown, Beloved Owner Of Bill Brown Ford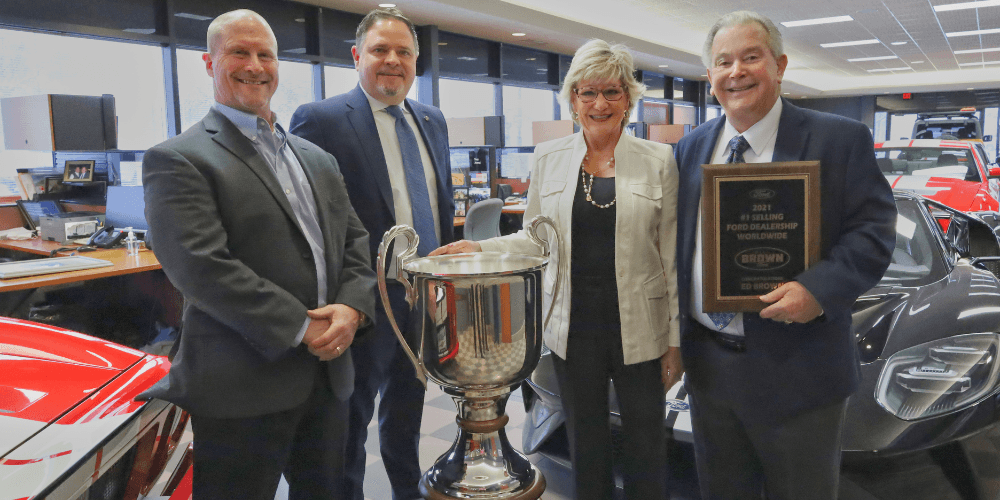 Edward Brown, beloved owner of Bill Brown Ford, passed away peacefully on March 13, 2023, leaving behind a legacy of service and compassion. Ed is survived by his Daughter, Ruth Ann Brown, and his Son, Thomas Brown.
Born December 5, 1944, in Birmingham, MI, Ed grew up in a family of car enthusiasts. He and his brothers were known to have a bit of a mischievous side, often racing family vehicles, which resulted in a number of burnt-out engines and attempts by the boys to sneak the vehicles back into their parent's garage. Ed also discovered a passion for marksmanship at a young age and won numerous national skeet-shooting awards. He was a Vietnam Vet, and during his time in the Military became a highly decorated member of the U.S Army National Shooting Team. 
Ed took over his father's Ford Dealership, Bill Brown Ford, in the 70s. Under his leadership, the dealership flourished, and Ed became a luminary in the Ford Community. He was known for his commitment to excellent customer service, the Livonia community, and his dedication to his employees.
Throughout his career, he was widely known as a visionary in the industry. He was hard-working with a kind spirit, which was evident in the way he took care of his employees. His leadership style and commitment to his team were a testament to the kind of automotive industry leader he was. Ed's memory will live on in the hearts of all who knew him, and his legacy of service and dedication will be remembered for years to come. He will be deeply missed by his family and friends.
In honor of Mr. Edward Brown, his son, and current Dealer Principal, Tom Brown, will follow in his father's footsteps to continue the Bill Brown Ford legacy Ed has worked so hard to build.
In lieu of flowers, the family suggests that donations be made in Ed's name to a local charity in your community. Details regarding the memorial service to honor Ed's life will be distributed next week.