ALL ELECTRIC. ALL F-150.
F-series is America's best-selling truck for 44 years* for a reason. And now, it's charging into the future with the all-new, all-electric Ford F-150 Lightning. It's the first F-Series that's gas-free and offers more purposeful technology, an elevated driving experience and trusted Built Ford Tough capability. Offering an ingenious array of connected intelligent features with over-the-air Software Updates to help ensure your truck can get even better over time.
Order Now
The All-New Electric F-150 Lightning at Bill Brown Ford
America's best-selling truck has entered the electric era with the brand new Ford F-150 Lightning. Ford is dedicated to continuously innovating for you, and in 2022, Ford has over-delivered with the introduction of the first-ever All-Electric F-150 Lightning.

Built Ford Tough, the F-150 Lightning at Bill Brown Ford in Livonia, MI, provides more purposeful technology and an elevated driving experience. Offering an innovative array of connected, intelligent features with over-the-air software updates to help ensure your truck only gets better with time.
The Ford Lightning will require significantly less maintenance than a typical gasoline engine, creating more than 40 percent savings for its lifetime total cost of operation. With a maximum payload of 2,000 pounds and a towing capacity of up to 10,000 pounds, the switch to an EV truck becomes effortless. Add in the starting price of $39,974 and a range of 300 miles, and it just makes sense.
Modernized F-150 Lightning Exterior
The Ford F-150 Lightning carries the renowned stylings of its gasoline counterpart while still finding a way to distinguish itself. Spanning the truck's front is a new light bar, adding a futuristic twist to the iconic design. The grille, no longer needing to cool an engine, comes available in three new bold designs.

These minor cosmetic changes are innovative yet stylish. The new F-150 Lightning claims the title as Ford's most aerodynamic F-150 ever built.

Thanks to the reduction in the typical gasoline components, the F-150 Lightning electric pickup truck offers an additional 400 liters of storage in the front. The power-operated Mega Power Frunk provides enough storage to stow two carry-on bags and one checked bag or two sets of golf clubs. For those looking to utilize their electric F-150 better, the Lightning's front trunk is fitted with everything necessary to survive both the job site and tailgate:

● Four Electrical Outlets
● Two USB Chargers
● Drainable Floor
● Water-Resistant
● 400 liters of storage
● 400 pounds of payload capacity

The F-150 Lightning exterior looks to capitalize its purpose-built design with a 5.5' bed and extended running boards with enhanced LED ground lighting. Additional exterior lighting can be found in the front and rear with individual controls from the center screen or the FordPass App. An additional four 110 V outlets and one 240 V outlet can be found in the bed to power up while on the job site.
Advanced F-150 Lightning Interior Updates
To Ford fans, the F-150 Lightning interior should feel familiar as well. With a no-compromise mentality, Ford fit the Lightning with all the available options found in its gasoline counterpart. The spacious SuperCrew cab seats five with the added option for an interior work surface.

Behind the steering wheel sits a 12-inch screen, serving as the truck's instrument cluster. Pertinent information like speed and range remains within eyesight, with the new center console display handling the rest. The center display comes in two options: a 12-inch horizontal screen (SYNC 4) or the 15.5-inch landscape screen, also found in the Mustang Mach-E (SYNC 4A).
| | Pro | XLT | Lariat | Platinum |
| --- | --- | --- | --- | --- |
| 12-inch | S | S | - | - |
| 15.5-inch | O | O | S | S |
Functionally, the two systems are very alike, with SYNC 4A adding the following:
One-touch dash cards for frequently used applications
Personal profiles
Digital owner's manual
State Of The Art Technology Featured in The F-150 Lightning
The shift towards a technologically focused platform has brought the best out of Ford's software team. As imagined, the new Ford F-150 Lightning is packed with the most advanced features, from hands-free driving to Amazon Alexa compatibility.
BlueCruise - With BlueCruise, the electric truck offers true hands-free driving over 100,000 miles and counting, stretched across various highways in the U.S. and Canada.
Onboard Scales - Keeping versatility and ease in mind, the F-150 Lightning offers onboard scales to weigh your cargo and account for it in your trip and range estimates.
Phone As A Key (PAAK) - Allowing you minimal delay, phone as key grants you the ability to start, lock, and unlock your car using just your phone.
360-Degree Camera - Giving you access to your car's entire surroundings all from within the center display. Ford Co‑Pilot360 - Standard on all F-150 Lightning trims comes the following future-proofed functions:
Auto High Beams
Blind Spot Information System (BLIS) with Cross-Traffic Alert
Lane-Keeping System (Lane-Keeping Aid, Lane-Keeping Alert, Driver Alert)
Pre-Collision Assist with Automatic Emergency Braking (AEB), Pedestrian Detection, Forward Collision Warning, and Dynamic Brake Support
Post-Collision Braking
Rear View Camera
Reverse Brake Assist
Ford Co-Pilot360 Assist 2.0 - The more advanced Ford Co-Pilot360 Assist 2.0 offers everything needed to keep your drives comfortable and easy as possible:
Intelligent Adaptive Cruise Control with Stop-and-Go
Lane Centering
Speed Sign Recognition
Evasive Steering Assist
Intersection Assist
Connected Built-In Navigation
Ford made it easy to keep your car up to date with the growing importance of software features. The F-150 Lightning is capable of over-the-air (OTA) software updates, allowing you to update the Lightning on the go. Dubbed the Ford Power-Up, these updates will improve existing features and continuously add new features, improving the overall ownership experience.
Charge Your Car, Charge Your Home With the F-150 Lightning
Debuting on the F-150 Lightning is the Ford Intelligent Backup Power feature. In the event of a power outage, your F-150 Lightning can lend a hand and power your home directly. Based on the average use of 30kWh per day, an F-150 Lightning with an extended-range battery will be able to power your house for three days or longer if power is rationed.

Outside of emergency uses, the Ford Intelligent Power feature allows your truck to sense peak hours, using the energy stored in your electric truck to power your home while electricity costs rise and recharging as they lower throughout the day, in turn saving you money.
How to Charge an Electric Ford F-150
Standard with the F-150 Lightning is an 80-amp charge station able to be installed at home. A 15-100% charge on the Extended-Range battery will take approximately eight hours, allowing the electric truck to wake up each morning with a full charge.
While on the road, the electric F-150 takes advantage of the 63,000 chargers within the FordPass network. The navigation system itself accounts for your estimated range and routes you to the nearest charger when required, taking the guesswork out of planning the route yourself. Capable of charging at 150 kW DC fast chargers, the Extended-Range F-150 Lightning can achieve a 15-80% charge in as little as 41 minutes.
F-150 Lightning Specs
The electric truck is offered in four trims: Pro, XLT, Lariat, and Platinum. Two batteries are offered, a Standard-Range with 230 miles of range and an Extended-Range with 300 miles of range (standard only on the Platinum).
All versions of the electric F-150 come with dual motors and four-wheel drive on a SuperCrew cab. Equipped with an extended range battery, the F-150 Lightning targets 563 hp and 775 lb-ft. of torque, making it the most powerful F-150 built. With a 0-60 mph time in the mid-4 second range, the Lightning is also faster than even the performance-oriented F-150 Raptor.
The commercial-oriented Pro trim starts at $39,974, while the XLT, with its extra comfort and technology, starts at $52,974.
100% Electric
We went beyond building an all-electric F-150. We created the smartest, most connected F-150 Ford has ever built, packed with all of the advantages that zero-emissions propulsion offers – from nearly instantaneous torque to Ford Intelligent Backup Power, connected services to intelligent range, it's a strong, capable look at what's to come.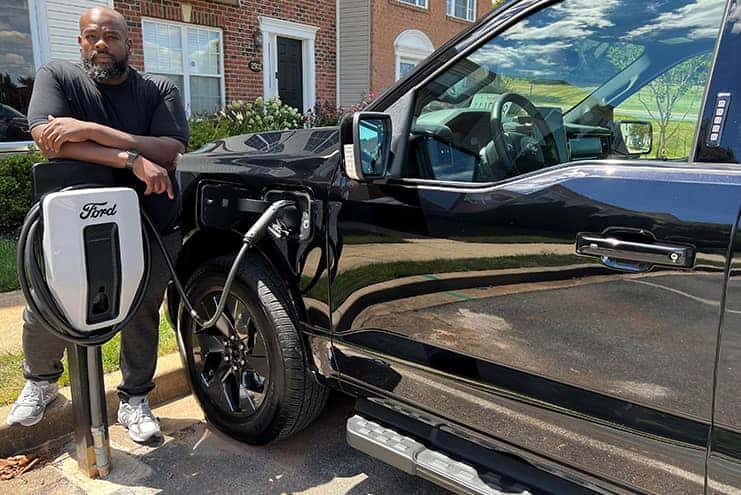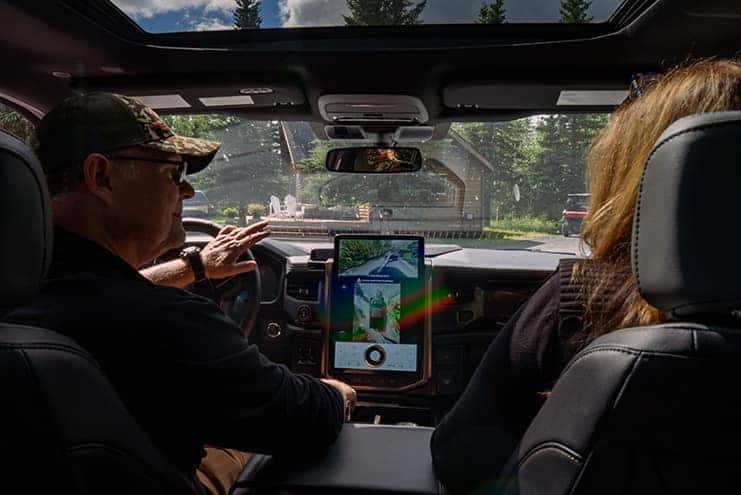 Advanced Technology
We've created a wide array of advanced technologies that can help improve the performance of your truck and your business. Including over-the-air Software Updates, powerful charging solutions and FordPass Integration that allows remote access to your truck and communication with a Ford Charge Station Pro at home for seamless access to public charging.**
BUILT FORD TOUGH
The all-electric F-150 Lightning is a purpose-built, must-have truck for serious work and recreation. And because we take the words "Built Ford Tough" seriously, we torture-tested it and put it through the same paces that all F-150 trucks go through. So you can be confident the F-150 Lightning will live up to the standards you have come to expect from F-150.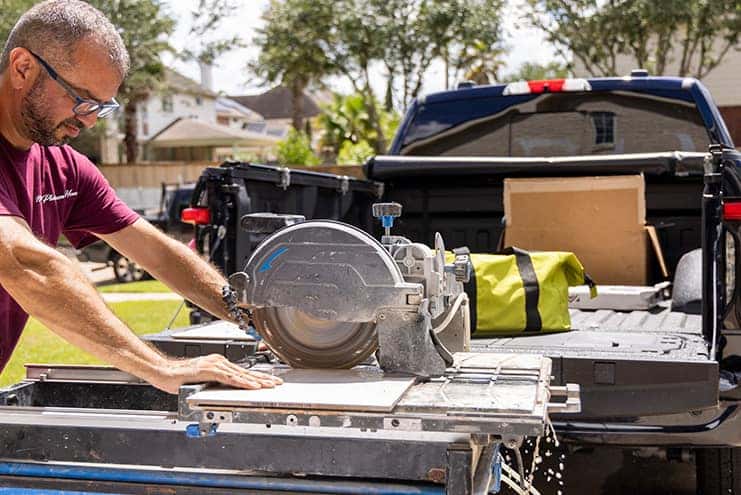 How Does a Reservation Work?
Be among the first to own the all-new 2023 F-150 Lightning. Just fill out the reservation form, and we will contact you when the order banks open for the 2023 Ford F-150 Lightning.
Currently, the order banks are open for existing reservation holders of 2022 Lightnings. When the order banks open for the 2023 Lightnings we will contact you to place your order.

Reserve
Currently Taking 2023 Reservations

Online Reservation FAQs
What is a reservation?
A reservation lets you configure and be among the first to order a new F-150 Lightning from Ford with a refundable Reservation Deposit. It is not an actual order and does not guarantee delivery.
What steps are required to complete my reservation?
Go online and select reserve now, create a Ford Account, select your preferred Ford EV Certified dealer and enter your credit/debit card details and address. A confirmation receipt will be sent to the email address you provide.*
What is a Ford Account and why do I need one?
A Ford Account lets you sign in to the Ford website to save and manage your personal and reservation information. You need to create a Ford Account to reserve your F-150 Lightning. Reservations can also be tracked in your Ford Account at owner.ford.com/.*
Can I select any Ford Dealer?
To find the closest Ford EV Certified Dealer, go to the Ford.com and select 'Locate a Dealer'; insert zip code or type in Dealer name; select 'Advance Search'; check EV Certified.
This will ensure EV Certified Ford Dealers are presented in your search results.
Can I make changes to my reservation?
Customers may reach out to Ford Customer Support at (800) 334-4375 for assistance in updating their dealer selection. In changing dealers, there will be no impact to a customer's reservation ID, vehicle details, or the associated timestamp.
Is the $100 reservation fee refundable?
Yes, reservation fees are refunded with reservation cancellation. Allow seven to 10 business days for the reservation deposit to be credited to your original form of payment.
Will you share my reservation information with my dealer?
Your reservation information will be shared with the dealer you select at the time of reservation. Please see our privacy policy at ford.com/help/privacy for additional information.*
Can I cancel my reservation?
Yes. You can cancel your reservation at any time and receive a full refund.* You can do this in your account at ford.com. If for some reason you can't process the cancellation online, you can contact a Ford Customer Experience Representative at 800-392-3673 (Ford U.S.). After canceling, allow seven to 10 business days for the reservation deposit to be credited to your original form of payment. Once you progress from a reservation to an order with a dealer, however, cancellation requests would be at that dealer's discretion.
When can I order my vehicle?
You will be notified prior to when the F-150 Lightning ordering windows open to finalize and confirm your selection and agree on pricing with your dealer.
What is an online order?
An order sends your vehicle configuration to your selected Dealer who will then process your order request.
By submitting an order and completing the order process, you are not purchasing a vehicle. Ordering does not guarantee you vehicle delivery. Your order does not guarantee a set-price for the vehicle.
Am I ordering this vehicle directly from Ford?
The F-150 Lightning order is being placed on your behalf by your selected Ford EV Certified Dealer.
Can I call or visit my Dealer to place my order?
Yes, your Ford EV Certified Dealer can assist with submitting and processing your F-150 Lightning order.
What happens to the reservation deposit once I order?
See your dealer for details. The reservation deposit should be credited or refunded by your dealer as part of the vehicle purchase process.*
Am I buying this vehicle directly from Ford?
No. The purchase agreement will be between you and the dealer, not you and Ford.
When will I take delivery of my vehicle?
You will be able to order your all-electric F-150 later this year. Production and deliveries will begin Spring 2022. Delivery times may vary based on vehicle model and configuration selected, residency and demand. Once your vehicle is scheduled, you will receive further notification.
How many reservations can I make and can I transfer my reservation?
Up to four reservations per account. Your reservation number is assigned to you and cannot be transferred.*
What price will I pay for my F150 Lightning?
The pricing for your vehicle will be finalized at time of order. The entry model starts at $39,974 MSRP(commercial-oriented). More-equipped mid-series (XLT) starts at $52,974 MSRP, offering additional comfort and technology. MSRP starting at $39,974 up to around $90,474.1 This reservation does not guarantee you a specific price point.
DISCLAIMER: *By completing the Reservation Process, you are not ordering or purchasing a vehicle. Participation in the Program does not guarantee you vehicle delivery. Your Reservation does not guarantee a set price for the Vehicle.
*Based on 1977-2020 CY total sales.
**At purchase, the FordPass Connect modem is connected and sending vehicle data (e.g., diagnostics) to Ford. To disable, or for more information, see in-vehicle connectivity settings. Learn more at FordConnected.com.