Explore the 2023 Bronco Sport Lineup and Custom Order Yours at Bill Brown Ford in Livonia, MI Today!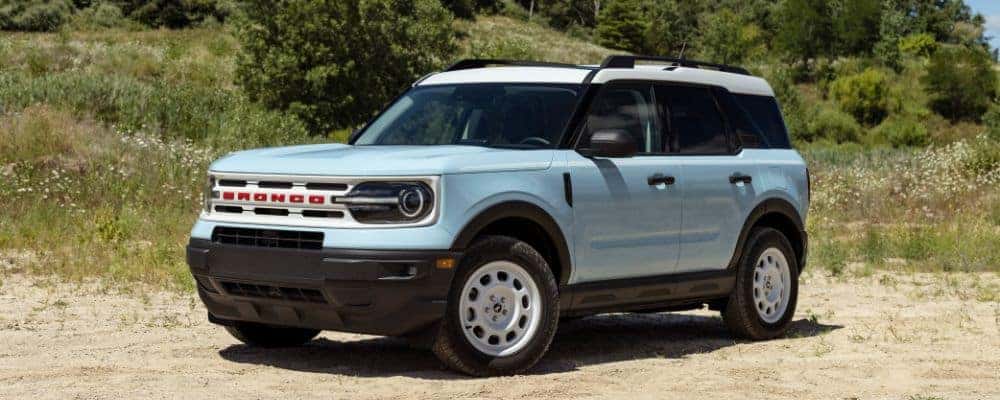 "Ford Bronco Sport" is the first name that comes to mind when you think of a highly capable midsize SUV with outrageous power, splendid functionality, and unmatched off-road capabilities. Since its inception in 2021, the versatile crossover has seen minor upgrades, and we anticipate the 2023 Bronco Sport to be a carryover model. Let's get into the details to discover what the new model year offers. 
2023 Bronco Sport Performance
The 2023 Ford Bronco Sport will feature the same engine options as the previous 2022 model. The base engine is a 1.5-liter turbocharged three-cylinder engine, delivering an impressive 181 horsepower and 190 lb-ft of torque. The second option is a 2.0-liter turbocharged four-cylinder engine that produces a staggering 250 horsepower and 277 lb-ft of torque. Both powertrains are coupled with an eight-speed automatic transmission, and all-wheel drive is standard across the lineup. 
Interior Features of the 2023 Ford Bronco Sport 
The Branco Sport is known for having a futuristic, innovative, and robust interior, and the 2023 model year is no exception. The SUV features an 8.0-inch touchscreen infotainment display, Apple CarPlay, Android Auto, touch-sensitive controls, and a six-speaker audio system. The compact SUV also provides plenty of headroom, an upright sitting posture, and a 400-watt power inverter to make your trips even more special. Overall, the Bronco Sports interior is an ideal space to cherish your extended road trips and off-road excursions, thanks to an incredibly spacious cabin, super-comfortable seats, optional rubberized floor, and a myriad of high-tech features. 
Available Cargo Space for the 2023 Bronco Sport 
The 2023 Ford Bronco Sport offers enough cargo space to carry your outdoor gear and more. The cargo room behind the back seats is 32.5 cubic feet, and when the rear seats are folded, the storage capacity increases to 65.2 cubic feet. 
Towing and Payload Capacity
When it comes to payload and towing ability, the 2023 Ford Bronco Sport is in a league of its own. The vehicle can carry sizable payloads through rugged terrains and haul heavy loads with incredible ease. The 2023 model year is expected to have a maximum towing power of 3,500 pounds and a payload capacity of 1,370 pounds. 
Safety Features
The 2023 Ford Bronco Sport puts a lot of emphasis on passenger safety. It is equipped with a host of class-leading safety features, including automated emergency braking, forward-collision warning, lane-departure warning, lane-keeping assist, blind-spot monitoring, rear cross-traffic alert, and automatic high-beams. Optional features include parking sensors and adaptive cruise control with stop-and-go technology. 
What's new for the 2023 Bronco Sport? 
Two new variants are expected to join the Bronco Sport's lineup for the 2023 model year— "Heritage" and "Heritage Limited." These trims will feature an upgraded interior, bespoke body parts, and extensive color options. As seen in the photo above, the 2023 Bronco Sport Heritage Edition is sporting a new color called Robin's Egg Blue. Ford also plans to release a hybrid variant of Bronco Sport by the end of 2022, which is currently in the testing phase.
Custom Order the new 2023 Bronco Sport at a Ford Dealer Near You
At Bill Brown Ford, our sales team is committed to making your car purchase experience as easy and seamless as possible. With our one-customer one-salesperson service, you'll never again have to deal with a pushy salesperson or get bombarded with hidden fees. Bill Brown's expert sales team will work with you to get you the best Ford lease deals available—no hassles or surprises. If you're searching for an industry-leading sales professional to assist you with your new 2023 Ford Bronco Sport custom order, please call 734-452-1024. Bill Brown Ford, servicing Livonia, Canton, Westland, Farmington, Novi, South Lyon, Dearborn, Plymouth, Northville, and Ann Arbor, looks forward to getting you behind the wheel of your dream vehicle.