Discover What's New For The Redesigned 2023 Ford Escape Lineup
The 2023 Escape
—
An Ultramodern Compact SUV With Potent Hybrid Engines And A Dynamic ST-Line
Equipped with all the latest tech and features, the all-new 2023 Ford Escape is the perfect compact SUV for your everyday adventures. The new Escape features a more elegant and upscale design with potent powertrain options that offer adequate power, excellent city/highway mileage, and ultimate driving pleasure. For the year 2023, the Escape lineup features the base, Active, Platinum, and PHEV trims, along with a sporty-looking ST-Line model for those who like to stand out. 
The All-New ST-Line
The 2023 Ford Escape lineup now includes the sportier, more aggressive ST-Line series. The base ST-Line model, available in both front- and all-wheel drive configurations, is powered by a 1.5-liter EcoBoost engine that churns out an impressive 180 hp and 190 lb-ft of torque. A hybrid variant with front-wheel drive is also available for users looking for better fuel economy. 
The ST-Line Select and the ST-Line Elite are the other two variants in the ST-Line series. Both these models are equipped with a 2.0-liter EcoBoost engine capable of producing a staggering 250 hp and 280 lb-ft of torque. All-wheel drive is standard, with a hybrid powertrain available on both models. 
The ST-Line boasts a sharper, more imposing appearance than its counterparts. The gorgeously crafted black mesh grille and attractive LED headlights give the front end a sleek and refined look, while a prominent rear skid plate and a sizable rear spoiler add to the sportiness of the compact SUV. The 19-inch ebony-finished aluminum wheels are standard on the ST-Line Elite, while they are optional on the ST-Line Select. 
Moreover, the ST-Line Elite features a LED light bar that extends across the bonnet for a more dynamic and streamlined face. Moving inside, the ST-Line distinguishes itself from other trims thanks to a flat-bottom steering wheel and red stitching that is visible on the seats, center armrest, steering wheel, door panels, and floor mats. 
Hybrid Engine Options For The New 2023 Ford Escape
There will be two hybrid powertrain options for the new 2023 Ford Escape. The full hybrid variant with front-wheel drive and electronic CVT generates 210 hp and 155 lb-ft of torque. The power output rises to 221 hp with a plug-in hybrid model that delivers an EPA-estimated range of 37 miles in the electric-only mode. When connected to a 110-volt Level 1 charger, the plug-in hybrid variant takes around 10-11 hours to charge the battery fully. This time gets reduced to 3.5 hours when using a 240-volt Level 2 charger.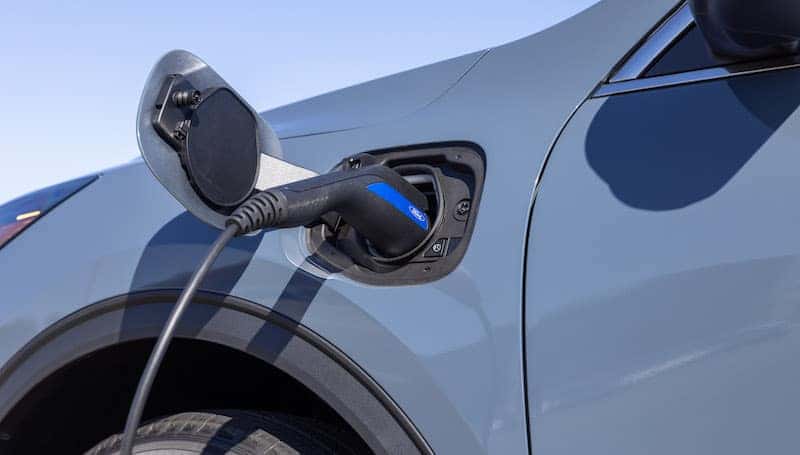 Mileage
With both EcoBoost engines and hybrid powertrains, the entire Escape lineup is anticipated to deliver an EPA-estimated range of no less than 400 miles per tank. The front-wheel drive hybrid variant is expected to raise the bar even further, achieving an EPA-estimated range of over 550 miles. 
Connectivity & Interior Features
Inside, the 2023 Ford Escape is packed with the most advanced and innovative features to elevate your overall driving pleasure. The 13.2-inch digital display comes with Ford's SYNC 4 infotainment system that offers over-the-air updates and wireless Apple CarPlay and Android Auto compatibility. During road trips and everyday commutes, the Connected Built-In Navigation is a lifesaver, and Alexa hands-free experience makes it simple to control smart home devices and listen to your favorite music. Other class-leading features on the 2023 Ford Escape include a 360-degree camera, a 12.3-inch digital instrument panel cluster, a wireless charging pad, and rear parking sensors. In addition to all these amenities, Ford has also incorporated the following high-tech driver assistance features into the upcoming Escape model: 
• Intelligent Adaptive Cruise Control with Stop-and-Go 
• Predictive Speed Assist
• Rear Cross Traffic Braking
• Reverse Brake Assist 
• Evasive Steering Assist 
Configure The All New 2023 Escape At Bill Brown Ford In Livonia, MI, Today! 
If you're ready to drive away in a Ford Escape, visit Bill Brown Ford and find out how we can make your dreams a reality. We have an extensive selection of new Ford models and pre-owned cars that are just waiting to take you on exciting new journeys. Bill Brown currently has ten 2022 Escape models in SE and SEL trim levels available on the lot for immediate delivery to their new home. However, if you are looking to custom order an SUV from the brand-new 2023 Escape lineup, configure your new Ford and order below.