The 2023 Ford F-150 Raptor R, The Ultimate Performance Truck
THE MOST POWERFUL HIGH-PERFORMANCE F-150 RAPTOR EVER
Looking for a vehicle that can traverse hilly terrains, conquer massive desert dunes, and has the ultimate off-roading prowess? The all-new 2023 Ford F-150 Raptor R is the most obvious choice. Designed to dominate the challenging off-road, the Raptor R is the fastest, most potent Raptor ever made by Ford Performance. The high-end pickup truck features a mighty powerful engine, an ultramodern suspension system, a practical interior with all the latest tech, and a beefy, muscular design to complement its commanding road presence. Let's delve deeper into the details to discover why the Raptor R is the most capable truck for high-performance off-roading.
ENGINE & TRANSMISION
The Raptor R is propelled by a massive 5.2-liter supercharged V8 engine capable of harnessing a formidable 700 horsepower and 640 lb-ft of torque. The profoundly powerful engine gives the Raptor R matchless desert running prowess and allows it to navigate extreme off-road trails effortlessly. The supercharger features a new pulley design that maximizes the engine's output for better low- and mid-range torque delivery. With the improvements in the supercharger technology, the Raptor R's V8 takes the crown for the most torque-dense engine ever fitted to a production pickup. The 10-speed automatic transmission feels more responsive than ever, with improved calibration and an upgraded torque converter that delivers smoother shifts when driving both on- and off-road. For superior acceleration, grip, and traction, the all-wheel drive system is standard on the Raptor R. Further advancements in the powertrain assembly include:
A redesigned oil filter and cooler

Deeper oil pan

Wider intake

New front axle

Unique larger-diameter aluminum driveshaft.
Additionally, Ford has incorporated a one-of-a-kind twin exhaust system with an active valve system and a pass-through muffler with four different modes: Normal, Quiet, Sport, and Baja.
SUSPENSION
The Raptor R's state-of-the-art suspension system makes it the most desirable truck for those who like to push the off-road capabilities of a vehicle. Up front, an independent double-wishbone suspension with coil-over shocks and cast aluminum lower control arm is installed. This mechanism offers the best control over rocky terrain since it allows each wheel to move and respond independently. At the rear, the five-link coil suspension with a Panhard rod and extra-long trailing arms provides excellent stability when driving through the desert at high speeds.
For improved ride quality and a refined off-road experience, Ford has outfitted the Raptor R with high-output, gas-pressurized, 3.1-inch Fox Racing Live Valve shocks. These electronically controlled dampers can adjust the suspension setting according to the terrain using height sensors. Moreover, they are painstakingly designed to manage the intense thermal load of high-speed desert running effectively.
TIRES FIT FOR ADVENTURE
The high-tech suspension system offers wheel travel of 13 inches in front and 14.1 inches in back, allowing the Raptor R to overcome even the most challenging obstacles comfortably. The pickup truck is fitted with class-exclusive 37-inch BFGoodrich all-terrain KO2 tires, which glide over the rough terrains and are indeed enormous.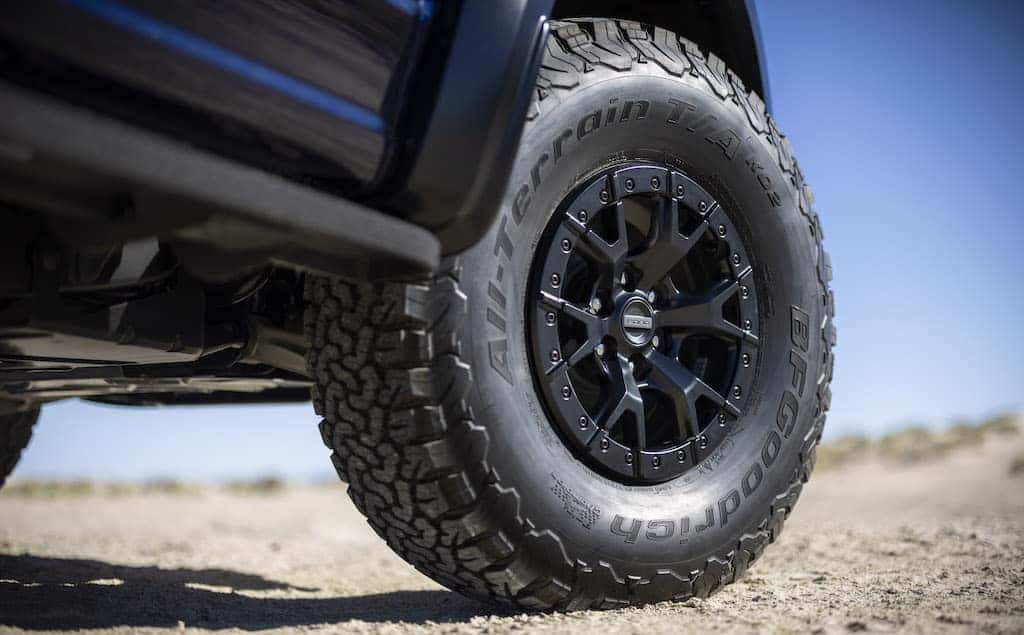 EXTERIOR & INTERIOR FEATURES
In order to match its splendid performance, Ford has adorned the Raptor R with a jaw-droppingly aggressive and imposing design. With futuristic LED headlights and the iconic "F O R D grille," the front end is designed to resemble a predator from the desert. The bumper and fender flares are finished in black, giving the truck a more menacing and stand-out look.
Furthermore, the hood has a bigger, more prominent power dome that is roughly an inch taller than the standard Raptor. An exclusive "R" insignia, finished in bright orange accents, is placed on the tailgate, power dome, and grille to separate the Raptor R from other trims. The rear fenders feature a distinctive graphics package, replicating the rough, broken desert ground and signifying the conditions Raptor R is meant to tackle.
Inside, you will get a lavish black interior with exquisite carbon fiber touches on the doors and instrument panel. The standard Recaro® seats are upholstered in black leather and Alcantara suede and are designed to keep you safe while high-performance off-roading. The other standard interior features include a 12-inch digital instrument cluster, SecuriCodeTM keyless entry keypad, Intelligent Access with push-button start, 4G LTE with Wi- Fi® hotspot, and a 12-inch touch screen with SYNC® 4 technology, Apple CarPlay, and Android Auto.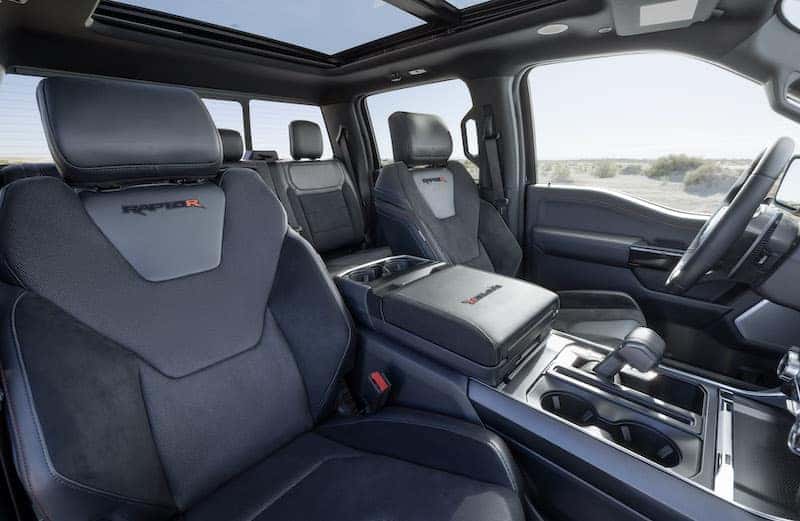 OFF-ROAD FEATURES:
The Raptor R's cutting-edge off-road technology features include the following:
Off-road Terrain Management System

Trail Control
Trail 1 Pedal Drive
Trail Turn Assist
CUSTOM ORDER THE 2023 FORD F-150 AT BILL BROWN FORD IN LIVONIA, MI
At this time, the Raptor R is unavailable for ordering. However, stay up to date with Bill Brown Ford to find out when Ford will be allocating more units. In the meantime, you can custom order the new 2023 F-150. Bill Brown Ford offers an efficient and seamless ordering process with our configuration tool. Walk through the build sheet online and price out packaging and features that suit your daily lifestyle needs the best. Choose from the F-150 Regular Cab, SuperCab, or SuperCrew, while deciding if you prefer RWD or 4WD. Walk through each trim and compare which size you want, then take customization even further by choosing your desired color, engine, packages, and extra features. Custom order your new 2023 Ford F-150 from our preferred Michigan Ford dealer today and get $1000 off when you lease or finance your dream truck. Bill Brown Ford looks forward to getting you behind the wheel of the best truck in America.