Dive Into The New 2023 Mustang Mach-E Specs & Custom Order Your New EV Today!
The automotive industry is in the midst of great change, and Ford is leading the way. The 2023 all-new electric Mustang Mach-E is packing some serious firepower under the hood providing capability and performance without compromise– no surprise here.
The Mustang Mach-E is part of Ford's sterling EV lineup, including the groundbreaking new F-150 Lightning and E-Transit. With these new cutting-edge electric vehicles, Ford is making a solid case for a sustainable future. But don't worry, the Mach-E still has plenty of outstanding performance to back up the Ford name; it's got the rich legacy of the Mustang badge to live up to, after all. And with cutting-edge EV technology, the Mach-E is more than up to the task. So get ready to dive into the new 2023 Mustang Mach-E specs below. 
What's New for the 2023 Mustang Mach-E?
The 2023 Mustang Mach-E is a workhorse of an SUV, but what's new for the 2023 model year? For starters, there's the Nite Pony package. This package gives the Mach-E a black-painted roof, all-black wheels, and black front and rear bumpers. The result is a car worthy of holding a gaze- perfect for those who want to make a statement on the road. 
Other visual tweaks include a panoramic glass roof, which is now standard for the GT and GT Performance Edition and replaces the black painted roof in previous models. There are also two additional color options for 2023: Vapor Blue Metallic and Carbonized Gray Metallic. 
2023 Mustang Mach-E Charging and Range 
When it comes to charging your Mustang Mach-E, you have a few options. You can use a regular 120-volt outlet, extending your driving range by 3 to 4 miles per hour. Or, you can upgrade to a 240-volt outlet, which will charge your EV up to 9X faster than a regular wall outlet, adding about 25 miles of range per hour. 
To max out charging speed, you can purchase the Ford Connected Charge Station, which can fully replenish the battery in 11 hours and adds 28 miles of range per hour. The 91.0-kWh pack, available on an extended range (70.0-kWh is the standard range), combines with the electric motor to produce an impressive 480 horsepower and a torque of up to 634 pound-feet. Learn more about the 2023 Ford Mustang Mach-E charging, range, mileage, and acceleration HERE.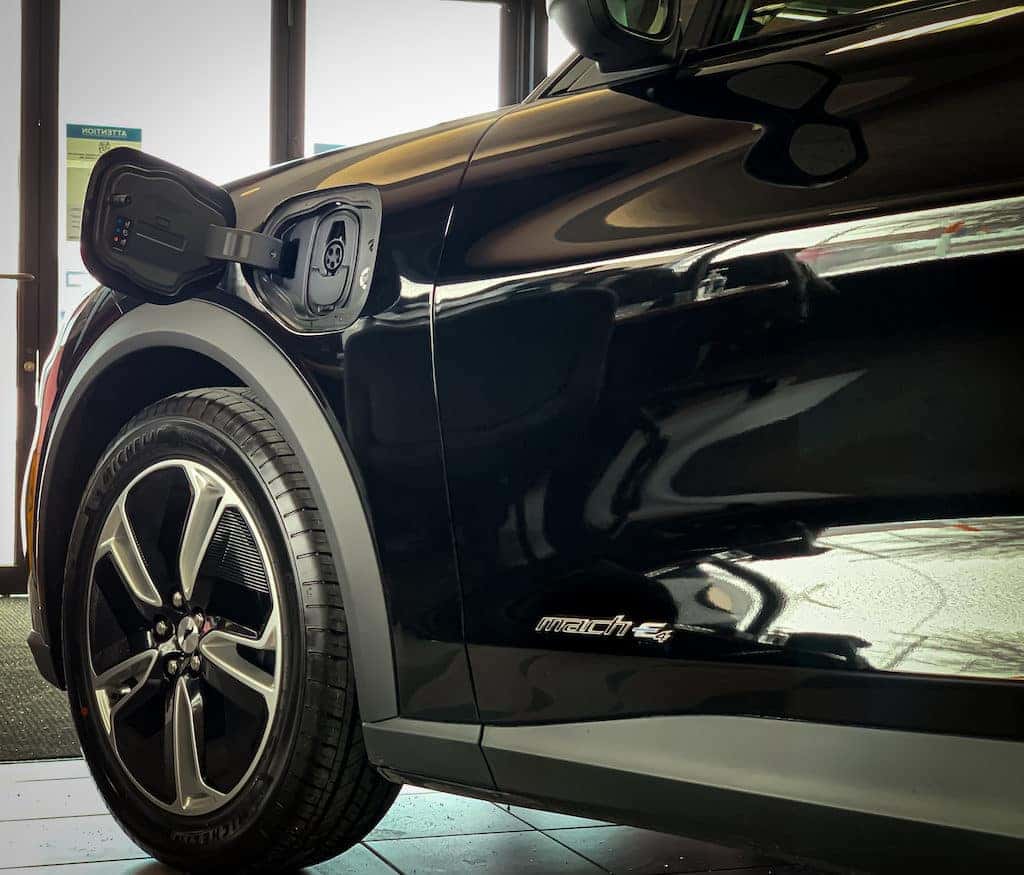 FordPass EV Charging Network 
The last thing you want to worry about when you're on the road is finding a place to charge your electric vehicle. With the FordPass Charging Network, you can rely on Ford's easy-to-use map to find charging locations quickly and easily. And with a single payment source via the FordPass app, you can keep track of your charging expenses without hassle. Plus, the FordPass Power My Trip feature allows you to plan your route and find charging stations along the way – you can be sure you'll make it to your destination without any problems. The Mustang Mach-E range can vary quite a bit based on the model you pick. For example, the entry-level model with the standard-range battery only has a range of 211 miles. But if you level up to the extended-range battery, that number jumps to 305 miles. And if you go for the top-of-the-line California Route 1 trim, you'll get an impressive 312 miles of range with all-wheel drive or 314 miles of range with rear-wheel drive. 
Acceleration 
The Mustang Mach-E is among the quickest cars in its class. Mach-E GT Performance can accelerate from 0 to 60 miles per hour in just 3.5 seconds; that's faster than most other electric SUVs and even quicker than some sports cars. The only SUV that matches the Mustang Mach-E's acceleration is the Tesla Model X, which can do 0 to 60 in 3.5 seconds. However, the Model X costs nearly twice as much as the Mustang Mach-E, so it's not really a fair comparison. 
Interior Features and Storage 
Mustang Mach-E 2023 has an array of impressive interior features that take a different, more futuristic approach compared to traditional Mustang finishes. Its streamlined dash is dominated by an eye-catching vertically mounted touchscreen and digital gauge cluster. The battery tucked under the car's floor allows maximum cargo and passenger space. On the other hand, your purse, keys, and iPhone have the floating flip-up armrest center console between the front-seat passengers for storage. There is also the front trunk space for the messy stuff, such as ice – you can rinse and drain it later. The EV Mustang offers up to 29 cubic feet of cargo space behind the back seats, which maxes out to 60 with the back seats folded – plenty of room for everything you need for your daily adventures or long road trips.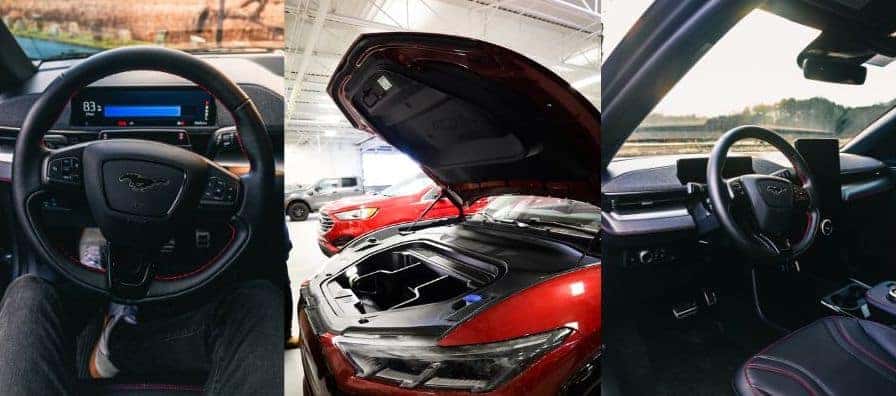 Custom Order the 2023 Mach-E at Bill Brown Ford in Livonia, MI, Today! 
The all-new 2023 Mustang Mach-E is one of the most anticipated EVs this year, and with good reason – it's got style, substance, and power. Order Banks are now open for the 2023 Mach-E! Contact Bill Brown Ford, Michigan's preferred Ford dealer, today if you are in the market for the perfect electric SUV. Our expert sales team will walk you through our seamless custom order process, getting you behind the wheel of dream Ford as quickly as possible. If you are looking for a Bill Brown Ford Sales team to assist you in your car purchasing journey, Chris Souter has decades of experience in the automotive industry and has been with Bill Brown Ford since 2017. To reach Chris regarding your next new Ford, call 734-452-1024 or email [email protected]