Breaking Down The Specs For The New 2024 Ford Mustang Dark Horse
The Detroit auto show has turned out to be nothing less than a fiesta for Mustang lovers and performance enthusiasts as Ford unveiled the all-new 2024 Mustang Dark Horse—a street-legal muscle car with track-ready performance. With all the ingredients of the most advanced and powerful muscle car, the Dark Horse is set to write its legacy as the most revered Mustang of the modern era. The rear-wheel-drive coupe not only looks aggressive but also sounds and feels aggressive. Before diving into details, let's make one thing perfectly clear, the Mustang Dark Horse belongs to a new breed of track-focused cars and is not for the faint-hearted. So, please read the article at your own risk!
NEW PERFORMANCE UPGRADES
The 2024 Ford Mustang Dark Horse features a mighty potent 5.0-liter CoyoteTM V8. With the grit to produce 500 hp and 425 lb-ft of torque, it is the most powerful naturally aspirated 5.0-liter V-8 engine Ford has ever built. Ford has made several improvements to drivetrain technology and engine parts to achieve this benchmark. The forged crankshaft and connecting rods are used to withstand higher piston speeds and cylinder pressures, and the camshafts are reinforced to sustain prolonged operation at maximum RPM. For enhanced efficiency and endurance, further advancements in the powertrain include:
A higher-revving valve train.
A twin throttle-body air intake.
An upgraded radiator with powerful fans.
Auxiliary coolers for engine oil.
As far as transmission is concerned, a modified version of the Tremec TR 3160 six-speed manual is offered as standard. Those seeking quick and seamless gear shifts can also opt for Ford's 10-speed automatic transmission with anodized metallic shift paddles. Both these transmissions distribute the power to the rear wheels through a Torsen limited-slip differential. The Dark Horse Mustang also has an active exhaust system featuring quiet, normal, track, and sports settings.
SUSPENSION, TIRES, & BRAKES
For high-performance handling, steady ride, and superior traction, the street-legal, track-ready Dark Horse comes equipped with Ford's MagneRide adaptive suspension and Pirelli P Zero (PZ4) summer performance tires (9.5×19-inch front & 10×19-inch rear wheels). The active dampers can track 1,000 tire and wheel motions in a second, providing excellent control and a velvety smooth ride over bumps and judders. The high-tech suspension technology also has larger, more strengthened rear sway bars and strut tower bars to elevate the overall driving experience and improve steering response and feel. Moreover, the front wheels are paired with 19-inch Brembo six-piston brakes with 13.9-inch rotors to ensure your Dark Horse safely stops on a dime.
EXTERIOR & INTERIOR REVAMP
With its clean, classy design and exquisitely crafted silhouette, the 2024 Mustang Dark Horse is undoubtedly a show-stopper. The dominant mean machine has a sleek and aggressive front end, boasting a massive gloss black grille, bigger trapezoidal nostrils, and smoked LED headlights. To further enhance the sharpness of the front end, Ford has integrated a lower front bumper in a gloss black finish. The Dark Horse is the first Mustang from Ford that features a forward-facing horse logo on the door sills, front fenders, and decklid, making the muscle car even more exclusive and desirable. The rear end of the Dark Horse exudes a fiery flair and is sure to draw attention. It features darkened taillights, a sporty rear wing, lower side skirts, a giant rear diffuser, and quad exhaust tips.
Inside, the cabin feels plush, modern, and robust. The large display panel houses a 12.4-inch digital gauge cluster and a 13.2-inch infotainment touchscreen. The flat-bottom steering wheel is decorated with vivid blue stitching, as are the console, door panels, seat belts, and gear shifter. Moreover, a 12-speaker Bang & Olufsen audio system is added to play your favorite tunes on the go.
7TH GENERATION MUSTANG REVEL AT DETROIT AUTO SHOW
JoAnna, a Bill Brown Ford ambassador and racing fan, had the opportunity to showcase her 6th generation Mustang at this year's Detroit Auto show. At the reveal event for the all-new 2024 Mustang, JoAnna got to share her own experience with her Mustang and how she got into racing. She was even given the opportunity to see the brand-new Mustang Dark Horse for the first time in person. Check out this up-close look and walk around tour of the all-new 2024 Mustang Dark Horse from the Detroit Auto Show in September.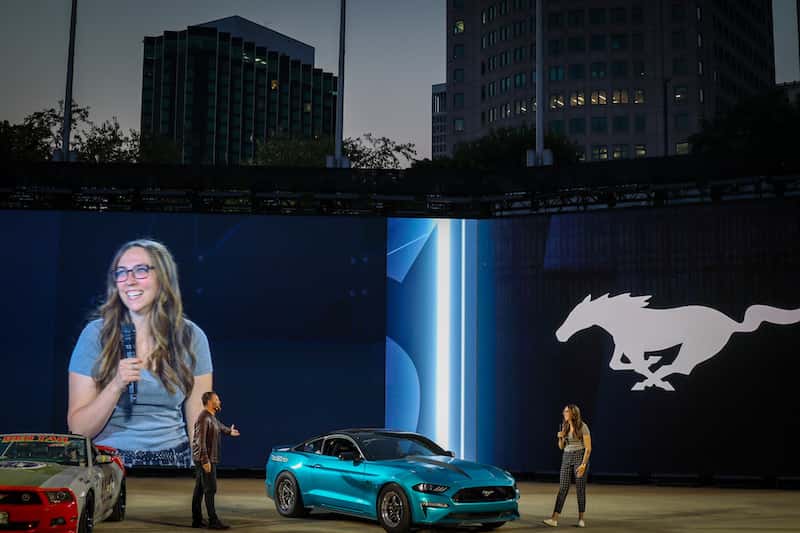 When Will the New 2024 Ford Mustang Dark Horse Be Available?
There is no release date for the new 7th generation Mustang Dark Horse, but customers can anticipate a release date closer to next summer. Bill Brown Ford, located in Livonia, Michigan, is your Ford dealer for a reason, and we will be the first to report once we have any further updates on the new Mustang generation. However, in the meantime, if you are in the market for a new or used Ford, look no further. Bill Brown has a handful of new and used Ford Mustangs available on lot. If you are looking to step into the EV world of efficiency, you can now customer-order the new electric 2023 Mustang Mach-E right here at our local Ford dealer.