Six of the Best Family Farms Near Metro Detroit to Visit this Fall Season!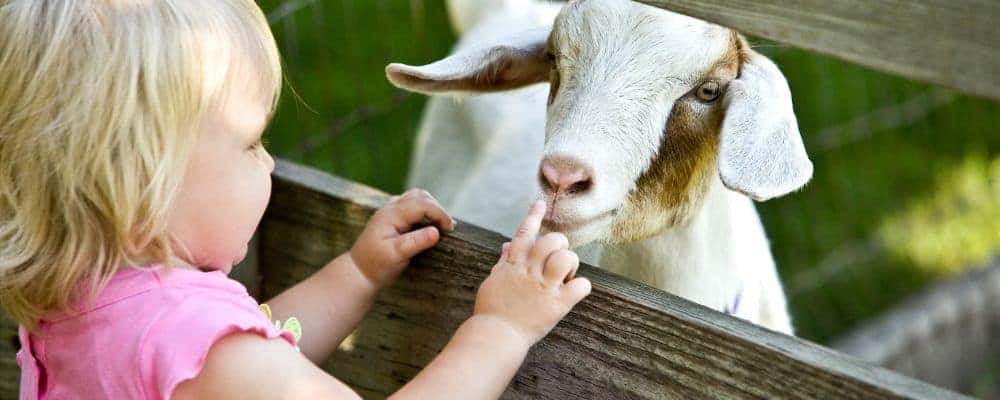 The farm is one of those best places to visit with your children, allowing them to experience nature and learn about animals, farming, sustainability, and more. From end-of-summer flowers to farm-fresh fruits and veggies, Michigan has some of the best unique farm experiences ready to brighten up your family weekends going into the fall! To get started with the planning, check out Bill Brown Ford's list of amazing, fun, family-friendly farms in Michigan! 
30655 Six Mile Rd, Livonia, MI 48152
Blue Line Farm is a family-run urban estate in Livonia, Michigan. Their farm is home to various animals, including goats, chickens, ducks, and potbelly pigs! Spend the day in goat yoga or learning about the animals through hands-on activities-You an even hold private events! Blue Line Farm also offers homemade goat milk soap and farm-fresh eggs and veggies in the shop. Visit their local Livonia, MI, farm, and spend quality time interacting with animals and nature!
50165 Eight Mile, Northville, MI, 48167
Maybury Farm is an 85-acre educational working farm for the whole family. Opening every Friday through Sunday from September 9 to October 30, the Maybury Farm corn maze includes a tractor-driven wagon ride to and from the maze. The 9-acre family-friendly maze takes about 60 minutes to complete, while the 1-acre mini-maze takes about 20 minutes. Each year features a new maze designed that includes a scavenger hunt! The farm hosts fun activities and events for families, including farm camps, Animal & Us tours, StoryTime for children, Watch-Me-Grow preschool programs, and the August Country Fair this summer, which takes place on the 13th from 10 am-5 pm. This year they will also be hosting their Great Fall Festival in October and Holiday Fun & Santa Visits at the Farm in December. Visit the Maybury Farm and enjoy the variety of animals and fun activities with your family! 
9777 Warren Rd, Plymouth, MI, 48170
Located just outside Plymouth, Michigan, Muddy Acres Flower Farm is a 17 acres cut flower farm offering flower bouquets, flowers in bulk, special orders, and u-pick farm visits. Come to Muddy Acres Flower Farm to walk amongst the flowers, capture family photographs, and cut your own beautiful bouquet! Don't be surprised if you are greeted by one of the farm's big fluffy dogs or a chicken looking for a treat. Advance purchase of tickets is required for u-pick visits.
10685 Warren Road, Plymouth, MI 48170
Since 1977, Plymouth Orchards and Cider Mill have been the local cider mill for Michigan families to enjoy. They are known for their fresh-pressed apple cider, fresh-made donuts, crispy caramel apples, icy apple cider slushies, baked pies, and fun farm experiences. The cider mill also has family entertainments, including orchard wagon rides, a children's animal park, organic produce for purchase, a cider mill garden with fall mums, and October pumpkin picking. Plymouth Orchards and Cider Mill are open daily from 9 am to 7 pm, from September 4 through November 7. Visit Plymouth Orchards and Cider Mill this fall for apples, fresh cider, donuts, and family fun!
38093 Judd Rd, Belleville, MI 48111
The Blueville Acres Blueberry Farm is a no-spray, natural practice blueberry farm located in Southeast Michigan, opening to the public each summer from mid-July thru mid-August for u-pick blueberries. The farm also offers fresh flower bouquets and, u-cut flowers, quality animal proteins to the local community. Visit and spend some quality family time outdoors picking the best blueberries!
50165 Eight Mile, Northville, MI, 48167
DeBuck's is a family farm with 15 acres of thrilling corn mazes, 20 acres of pumpkins, and 15 acres of sunflowers. Visit DeBuck's local Northville, MI, Farm to experience the beautiful sunflower field this summer! Take advantage of the fantastic photo opportunities and U-pick sunflowers! DeBuck's will be holding the sunflower festival in August and September. Enjoy the U-pick sunflowers and lavenders, food and drinks, family fun attractions, and the fantastic display of millions of fall blooms. Be ready to be blown away by the sea of flowers! DeBuck's also provides the best fall family entertainment, including their Core Maze & Pumpkin Patch, since 2009! Visit Debuck's this fall for the best family experience! 
Be sure to tag Bill Brown Ford in all your fun on the farm!