Top 5 Hiking Trails To Visit This Fall Near Livonia, Michigan
The crisp autumn air beckons you to take some time away from your busy schedule and maybe even try something new. But how will you make the most of those precious days? Bill Brown Ford has you covered. Head to one (or more!) of these spectacular hikes across Michigan and enjoy a challenging adventure or an easy stroll—whatever fits your style. At all difficulty levels, there is a path for every outdoor enthusiast. Take advantage of your G.O.A.T Modes on your Bronco sport, put your best-in-class F-150 to the test, or push beyond the limits of your Edge this fall as you venture into some of the top-favorite hiking trails near Livonia, Michigan. 
Rotary Park Loop
Livonia, Michigan
If you're looking for an easy way to escape right in town, look no further than Rotary Park! This 1.6-mile trail offers a quick escape into nature, with a view of the river that's sure to take your breath away. The route is considered easy and takes an average of 29 minutes to complete, which makes it great for all ages to enjoy the river view or a quick afternoon walk—looking for a more strenuous hike? There are also plenty of other trails at this nature preserve to explore, extending your hike farther than initially planned. Whatever you have planned for the day, Rotary Park always has the perfect trail for outdoor lovers.
Maybury Hiking Trail Loop
Distance from Livonia, MI: 11 miles (18 min drive) 
Maybury State Park is a 944-acre park in Northville Township, Wayne County, Michigan. The park offers rolling terrain, open meadow, and mature forest to people in the metropolitan area who want to get involved in outdoor recreation activities. There couldn't be more balanced hiking paths than the Maybury Hiking Trail Loop. The 4 miles trail takes about an hour to complete, and the best part is it's an easy family trail that any novice outdoor enthusiast can try too. Maybury Trail is well-marked and mapped at every junction, making it easy to navigate. Along the way, you will get ample chances to witness exceptional wildlife.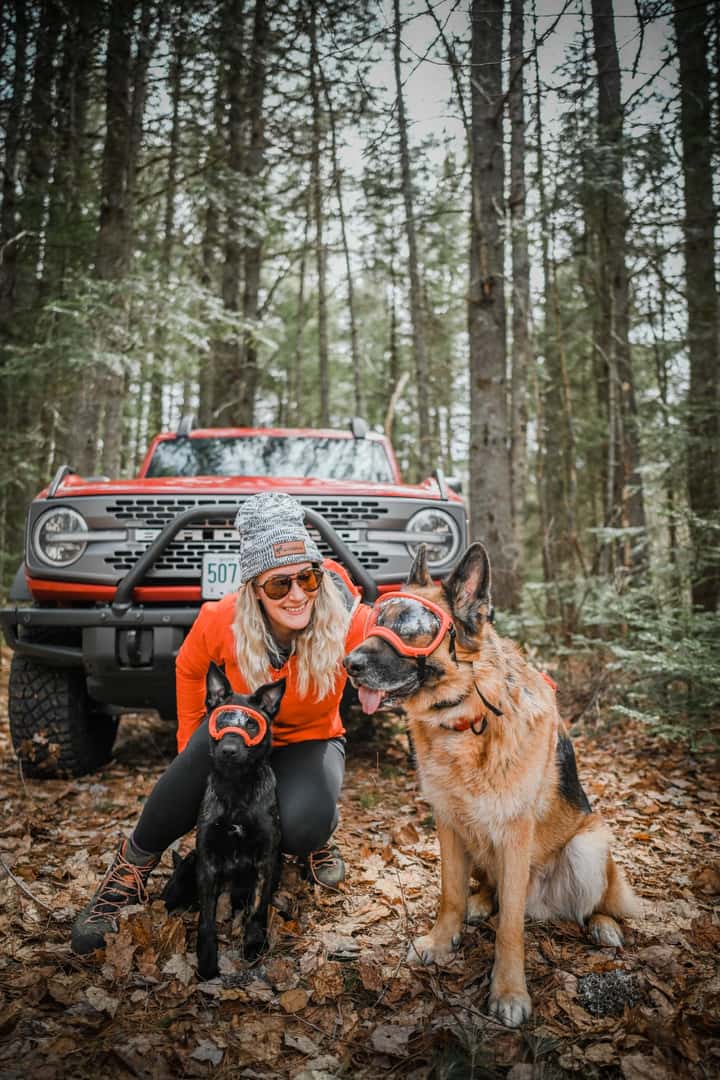 Carpenter Lake Nature Preserve Loop
Distance from Livonia, MI: 9.3 miles (20 min drive) 
What's better than a hike? A hike with dogs, that's what! The 1.3-mile easy-level loop trail at the Carpenter Lake Nature Preserve near Southfield, Michigan, is perfect for you and your furry friends. The trail adventures through forests, woodlands, and wetlands overlooking the beautiful Carpenter Lake—it's dog-friendly, so bring your pup along! The lake offers fishing and viewing platforms with various species inhabiting the lake, so don't forget to bring your camera! The trail is well-marked with interpretive signs, trailheads, and numerous benches to assist visitors. It makes it a beautiful short trail for kids, dogs, and hikers of all experience levels. Gas or charge your Ford vehicle and head towards your next campsite near Livonia! 
Bird Hills Trail
Distance from Livonia, MI: 26.4 miles (31 min drive) 
The city's largest park at 161 acres, Bird Hills Trail, located close to Livonia, Michigan, is a beautiful place for a hike. This hilly green space has woodland trails that are best explored by foot. It is mainly a 4.9 miles loop trail near Ann Arbor. The area's topography opens many nature sightseeing opportunities in an underdeveloped forest blooming with flowering dogwoods, wildflowers, and staggering hills. Grab your maps and escape with many hiking options depending on your ease and time frame. And yes, you can also bring along your dog as long as it is on a leash. Make sure you pack some good-quality trekking shoes and raincoats, as sometimes things get muddy and slippery. 
Island Lake Yellow Trail Loop
Distance from Livonia, MI: 26.6 miles (31 min drive) 
Island Lake State Recreation Area is a hidden gem of South Lyon, Michigan. This moderate trail, located along the Huron River, is a 5.5-mile loop that offers incredible views of nature. The terrain is easy and perfect for families visiting and camping. Enjoy the picturesque scenery and surround yourself with wildlife for a short escape from the metro areas! The park also has a 9-mile Blue Loop option for experienced riders to test their limits. 
Purchase or Lease a New Ford From Bill Brown Ford Today! 
Get ready for the holidays with Bill Brown Ford! We've got a full inventory of new 2022 Ford models here on the lot, ready for immediate delivery. Choose from our wide range of vehicles, including America's #1 selling work-ready F-150 and capable family SUVs like the Explorer, Escape, and Expedition. Hurry in today; inventory won't last long. 
As the world's largest AXZ-Plan Dealership, we put you in control. Whether you're looking for an F-150, Escape, Edge, or Explorer, we offer the best A, X, and Z-Plan Lease Deals available near you in Michigan. Plus, we provide personalized configurations and an extra $1,000 off for custom orders. Explore our true view inventory below and discover which model is the right fit for you. 
New True View Inventory Ford Lease Specials