2023 Ford Bronco G.O.A.T Modes & Their Availability On Different Trims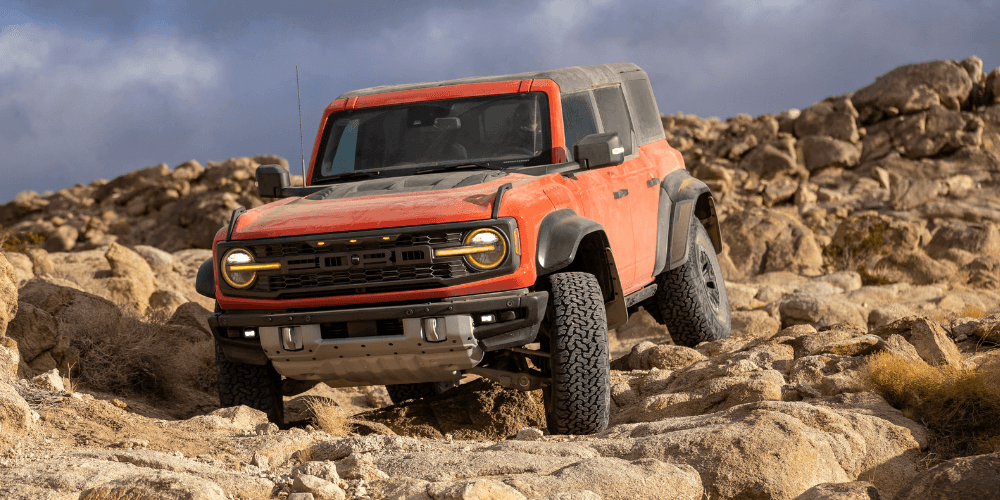 For superior functionality, blistering performance, and exceptional off-road capabilities, Ford has equipped the Bronco SUV with a groundbreaking terrain management system known as G.O.A.T (Goes Over Any Terrain) Modes. This system optimizes the suspension, transmission, drivetrain, traction control, and throttle sensitivity to offer you the best possible drive on any terrain.
G.O.A.T modes come standard on every Bronco, including Normal, Eco, Sport, Slippery, and Sand. Upgraded options include Mud/Ruts, Rock Crawl, Baja, and Tow-Haul modes. Learn more about this game-changing Terrain Management System by taking a deep dive with Bill Brown Ford below.
Available 2023 Bronco G.O.A.T Modes
Normal:
Available as a default mode on all Bronco trims, the Normal G.O.A.T mode is perfect for everyday driving and provides an optimal balance between performance, practicality, and comfort.
Eco:
By tuning the engine for maximum fuel efficiency, the Eco mode helps save fuel and improves the driving range. This mode is ideal for city and highway driving, where there is no need for differential locks or enhanced throttle response.
Sport:
With improved performance, handling, and throttle response, the Sport mode is engineered for those who like to have a sportier, more exhilarating drive. The steering becomes more stiff and nimble, and the powertrain holds onto lower gears for longer, resulting in instant power delivery and rapid acceleration.
Slippery:
The Slippery mode should be your first choice when driving on snow or ice-covered roads. It slows down the throttle response and optimizes gear shifts to tackle wet and slippery surfaces. Additionally, traction and stability controls are made more restrictive to offer better control.
Sand/Snow:
The Sand/Snow mode comes in handy while traversing loose surfaces like deep sand or thick snow. This mode engages the four-wheel drive lock, improves braking performance, and amplifies engine sound.
Mud/Ruts:
With the assistance of the mud/ruts mode, Bronco can easily navigate muddy, rutted, or uneven terrains. In this mode, the four-wheel drive lock gets engaged, transmitting the power to all four wheels evenly. Moreover, the traction and stability control allows for more momentum-maintaining wheelspin. So, for those who like to go mudding or despise getting trapped in mud, the mud/ruts mode is the most suitable choice.
Rock Crawl:
For adventure lovers who aren't scared of conquering challenging rocks in their off-road pursuits, nothing beats the Rock Crawl mode. It engages the rear differential and four-wheel drive locks while also turning on the front trail camera at low speeds so you can see the approaching objects more clearly.
Baja:
The Baja is the ultimate driving mode for high-speed off-roading, especially on loose terrain like sand. In this setting, the suspension, throttle response, and torque delivery are all optimized for extreme performance and unrivaled off-roading prowess.
Tow-Haul:
The Bronco Raptor features an exclusive tow/haul mode, which allows it to pull up to 4,500 pounds. For enhanced towing power, the upshifts take place at higher speeds than normal, and the frequency of gear shifts gets reduced. Moreover, engine braking is applied while descending steep slopes.
Bronco G.O.A.T Modes Availability by Trim
Depending on their functionality, capabilities, and other available features, different Bronco trims come with different G.O.A.T modes. While some modes are standard across the entire Bronco lineup, a few are exclusive to specific trims. Below we break down which 2023 Bronco trim can be equipped with available G.O.A.T modes.
Base: Normal, Eco, Sport, Slippery, and Sand/Snow.
Big Bend: Normal, Eco, Sport, Slippery, Sand/Snow, and Mud/Ruts.
Outer Banks: Normal, Eco, Sport, Slippery, Sand/Snow, and Mud/Ruts.
Wildtrak: Normal, Eco, Sport, Slippery, Sand/Snow, and Mud/Ruts.
Black Diamond: Normal, Eco, Sport, Slippery, Sand/Snow, Mud/Ruts, and Rock Crawl.
Badland: Normal, Eco, Slippery, Sand/Snow, Mud/Ruts, Rock Crawl, and Baja.
Everglades: Normal, Eco, Sport, Slippery, Sand/Snow, Mud/Ruts, and Rock Crawl.
Heritage: Normal, Eco, Sport, Slippery, and Sand/Snow.
Heritage Limited: Normal, Eco, Sport, Slippery, Sand/Snow, Mud/Ruts, and Rock Crawl.
Raptor: Normal, Sport, Slippery, Tow-Haul, Rock Crawl, and Baja.
Purchase or Lease a New Bronco at Bill Brown Ford in Livonia, MI
Bill Brown Ford is excited to share that we have over 15 available 2022 Ford Bronco Big Bend and 2022 Bronco Badlands trim models on the lot or in transit, ready for immediate purchase. With a range of colors and features available, explore our TrueView™ Inventory, where you can find the perfect Bronco to suit your style. Hurry in to take advantage of this opportunity, as inventory is limited. Call 734-452-1024 to speak with a sales consultant or visit the dealership to test drive one of these highly sought-after SUVs. Don't miss out on the chance to own a 4-door Bronco.
If interested in the 2023 Ford Bronco, configure your order today at Bill Brown Ford with our easy online configuration tool below. As soon as its 2023 model year opens, we'll reach out to you to finalize your order.
EXPLORE OUR AVAILABLE TRUEVIEW™ INVENTORY