New Ford Bronco in Livonia, MI
After a two-and-a-half decade-long hiatus, Ford finally brought back the legendary Bronco badge with last year's advancements. Looking to improve the best go-anywhere car further, the 2022 Ford Bronco features stylings inspired by the first generation while fitting it with all the comforts and tech from the 21st century.

The new Ford Bronco is offered in both a two and four-door configuration. With over 200 factory accessories, there's a Bronco configuration for just about everyone. At a starting price of $29,300, available 2.7-liter EcoBoost V6 engine making 310 horsepower and 400 lb.-ft. of torque and available best-in-class ground clearance, the Ford Bronco is the perfect choice for anyone going on an adventure.
Get Your Ford Bronco at Bill Brown Ford Today
Get your hands on the new Ford Bronco available now at Bill Brown Ford in Livonia, MI. Discover the impressive performance and package options that make the 2022 Bronco the perfect vehicle for any outdoor enthusiast. Our newly developed order process ensures your Ford Bronco is scheduled and prioritized with Ford for the fastest delivery possible. Contact our team of sales experts to start the seamless order process today at (734) 237-3832.
Exterior
Evoking the first-generation sixty-year-old Ford Bronco design, the 2022 Bronco is designed with a rugged and boxy silhouette. Prominent wheel arches and durable trim pieces make it clear to any bystander that this SUV can handle anything off-road. The short overhangs allow for best-in-class break-over, allowing the Bronco to navigate sharp drops and steep inclines without fear of damaging the SUV.

Thanks to its removable body panels, the 2022 Bronco allows occupants to experience the great outdoors to an even higher degree. On the two-door model, the roof is removable in three sections, the front left, right, and rear section. With its longer wheelbase, the four-door model has more options regarding roof removal. A soft cloth top is standard on all four-door models. An optional hardtop is available with four removable sections, the front left and right, middle, and then rear section.

Regardless of the two or four-door model, all 2022 Broncos come with removable doors, furthering the openness felt in the cabin. Both the doors and roof panels are designed with ease of removal/installation in mind. Ford has taken the extra time to develop components easily interchangeable by a single occupant.cupant.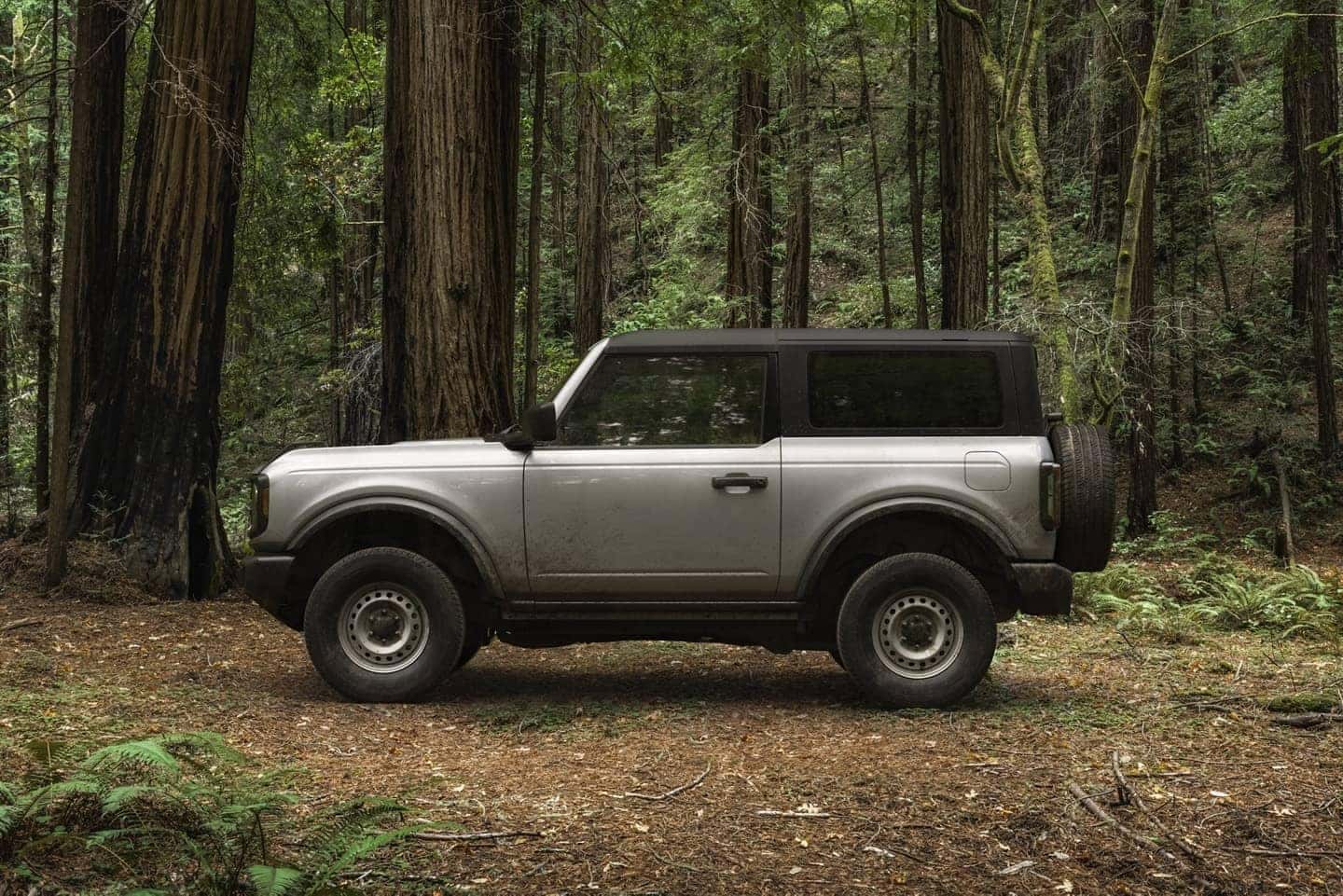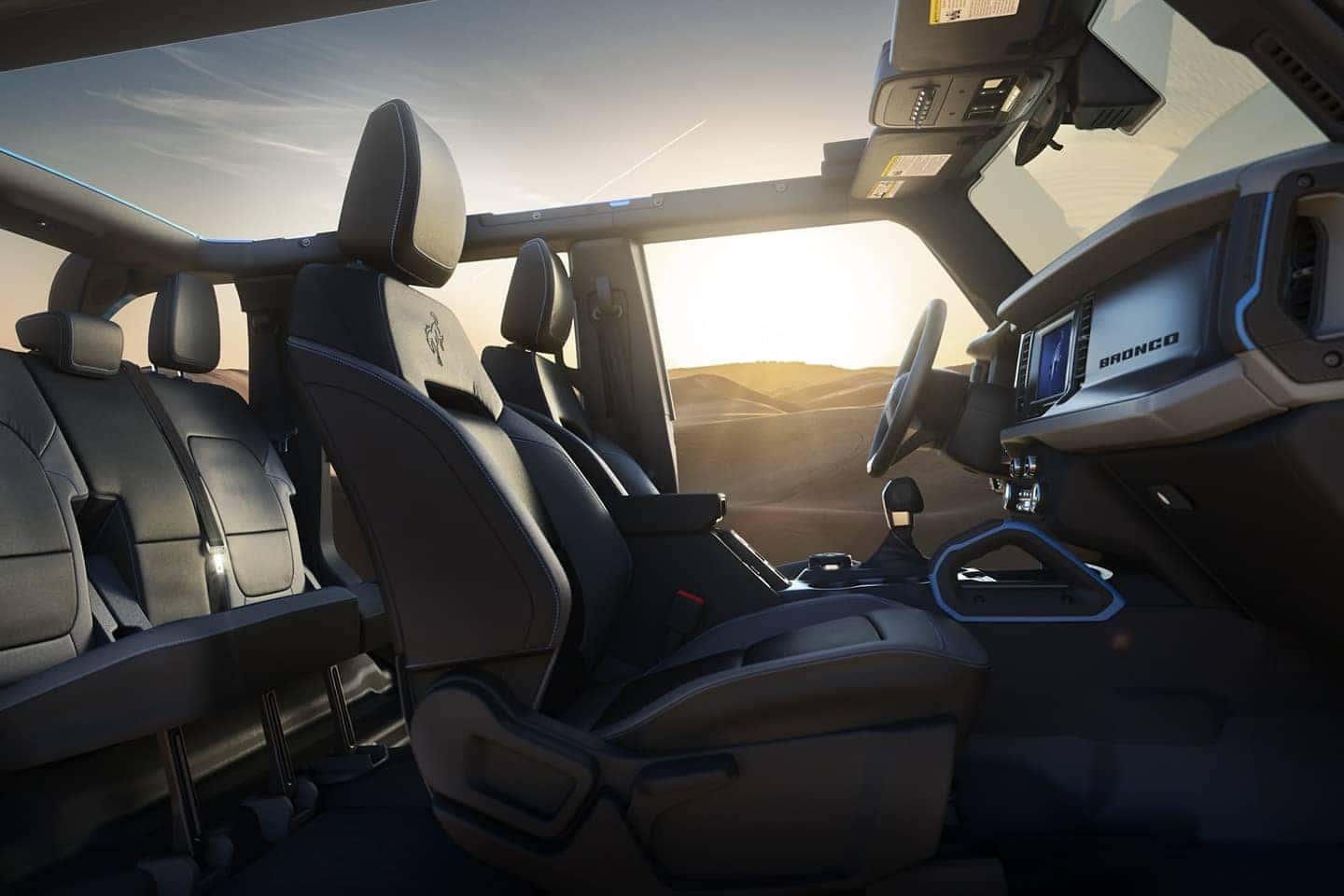 Interior
Catering to both the outdoorsman and daily drivers alike, the new Bronco interior is both comfortable and durable. Inspired by the first-generation, the 2022 Bronco is fitted with a bright instrument cluster and an 8-inch (optionally 12-inches on higher trims) center display powered by Ford's SYNC 4 technology.

Various pieces of the interior do, however, reveal the Bronco's off-road intentions. Strategically placed grab handles dot the interior for when the road gets bumpy. The top of the instrument panel has attachment points for various devices such as cameras or radios, complete with 12-volt and USB power connections nearby. There is an Off-Road Hero Switch Pack above the center console on certain trims. These six silicon-sealed switches allow quick access to various off-road features such as front and rear differential locks.

Lastly, for when things get messy, the Bronco can be outfitted with marine-grade vinyl seating as well as washable flooring with integrated drain holes.
Technology
Contrary to the rugged exterior, the Ford Bronco's interior is suited with the latest technology. Ford's SYNC 4 technology allows for cloud-connected navigation, providing alerts regarding traffic and weather. Consistent software updates allow room for old features to be improved and new features to be added in the future.

While many cars in the Ford lineup have SYNC 4 technology, the Bronco is the only one to hold exclusive features. The FordPass Performance app comes with off-road navigation, allowing the Bronco to free itself from roads without getting lost. Drivers can download curated trail routes, allowing them to reach new heights and experiences. The Ford Bronco can record and send video and vehicle telemetry data directly to your phone to commemorate the occasion. Some other off-road oriented features include:
G.O.A.T. Modes: Standing for "Go Over Any Terrain," the G.O.A.T. Modes allow for current terrains to be specified, such as Slippery or Sand. In turn, the Bronco will adjust various settings in the SUV to give the best driving performance.
Trail Control: Available only on automatic transmissions, Trail Control, functions as an off-road cruise control at low speeds.
Trail Turn Assist: To help in low-speed, technically challenging off-road turns, the Bronco can apply negative torque to the inside rear wheels to help reduce its turning radius.
Trail 1-Pedal Drive: Available only on automatic transmissions, this feature makes braking automatic. Just lift your foot off the gas to come to a complete stop.
The Ford Bronco is available with Ford Co-Pilot360 technology with features such as emergency braking and lane-keep assist for life back on paved roads.
Performance
The Ford Bronco comes in seven different trim levels: Base, Big Bend, Black Diamond, Outer Banks, Badlands, Wildtrak, and Raptor. Each trim aside from the Bronco Raptor is available in a two or four-door option and with either a 2.3L EcoBoost I-4 or a 2.7L EcoBoost V6 engine. All versions of the Bronco come standard with a 4x4 drivetrain. A 7-speed manual transmission is offered with only the 2.3L engine; otherwise, a 10-speed automatic can be optioned out.

The 2.7L V6 outputs 310 hp and 400 lb.-ft. of torque while the 2.3L I-4 offers 270 hp and 310 lb.-ft of torque.

New for 2022 is the Ford Raptor Bronco, an entirely new beast in the Bronco lineup. Available exclusively in a four-door configuration, the Raptor offers the most powerful engine in the lineup. The Bronco Raptor will carry a 3.0L twin-turbo V6 engine. Final specifications have not been revealed, but it will have at least 400 horsepower.

For those wanting the best chance at navigating the outdoors, look to the Sasquatch Package. Standard on the Wildtrak, the package is optional on every trim level. It offers 35-inch tires and new suspension, giving you the best possible ground clearance as well as features like front and rear-locking differentials and locking front and rear axles.

A new-for-2022 Everglades Package further builds on the off-road capability of the Sasquatch Package. The package adds mud-terrain tires and a factory snorkel mounted to the A-pillar. The front and rear axles, transfer case, and colling transmission vents are also raised in the Everglades Package. This allows for a water fording depth of 36.4 inches, an improvement of 2.9 inches compared to the Sasquatch.
| | Two-Door | Four-Door |
| --- | --- | --- |
| Ground Clearance (Base/35-inch tires) | 8.4″/11.6″ | 8.3″/11.5″ |
| Approach angle (Base/35-inch tires) | 35.5°/43.2° | 35.5°/43.2° |
| Breakover angle (Base/35-inch tires) | 21.1°/29.0° | 20.0°/26.3° |
| Departure angle (Base/35-inch tires) | 29.8°/37.2° | 29.7°/37.0° |
Pricing for the two-door model starts at $29,300 for the Base and upwards to $47,780 for the Wildtrak. For the four-door version, pricing starts at $33,450 to $49,475. The starting price of the Ford Bronco Raptor will be just below $70,000 at $69,995.
Make It Your Own
With so many trim levels, colors, and packages, the Ford Bronco can be built in a way that will make it undoubtedly yours. With over 200 accessories being offered for the Ford Bronco, the customization can go even further.
Cargo Organizers
Interior Trim Kits
Seat Covers
Exterior Covers
Deflectors
Spoilers
Racks and Carriers
Roof Mounts
Custom Fenders
Splash Guards
Cargo Platforms
Wheels
Custom Lighting
Dashcam
Custom Doors
Hood Scoops
Emergency Kits
With help from your favorite Michigan Ford dealership, navigating the extensive catalog and building your perfect Bronco is just a call away here at Bill Brown Ford.
Bronco Accessory Line: (734) 237-3832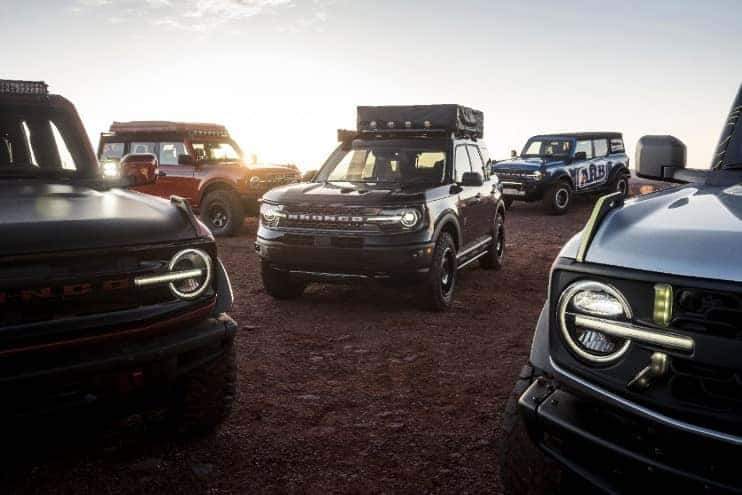 Ford Bronco Image Gallery
See Images of the new 2022 Bronco 2-Door and Bronco 4-Door
Bronco Accessories at Bill Brown Ford in Livonia, MI
If you still can't find exactly what you need, those that purchase a Bronco from Bill Brown Ford gain access to further aftermarket accessory support. In partnership with Jeff's Bronco Graveyard and other aftermarket suppliers, we offer owners exclusive off-road packages, tires, wheels, and lift kits to help complete your custom Bronco.
When it comes to the Bronco, Bill Brown Ford intends to be the premier metro Detroit Ford dealership. Going above and beyond, we'll make sure you leave with the perfect Bronco catered just for you.