Maximize Your Tax Savings: How Business Owners Can Claim $7,500 On The 2023 Mustang Mach-E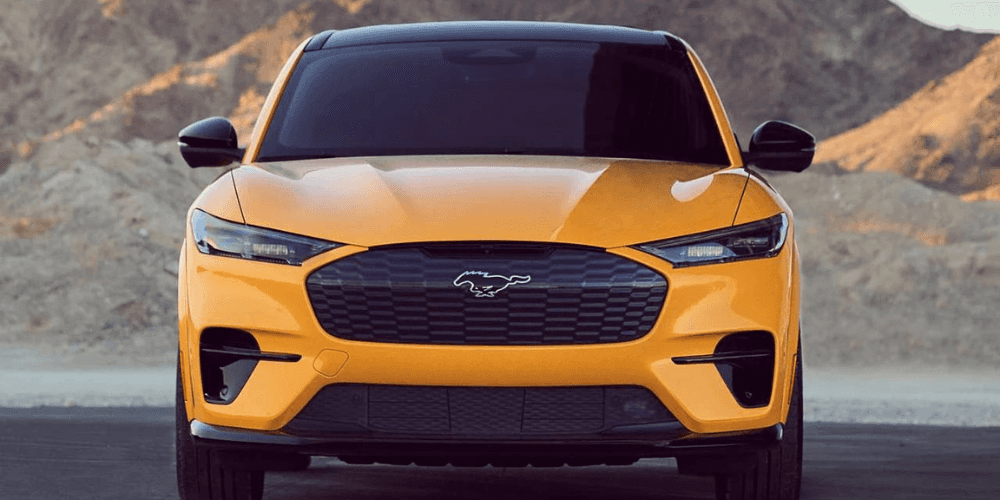 As of January 1, 2023, business owners can now receive $7,500 in electric vehicle tax credits when purchasing a new Mustang Mach-E SUV from Bill Brown Ford. Known for its quick and agile performance on twisty roads, the all-electric 2023 Mach-E also offers exceptional grip and handling in snowy Michigan conditions. We currently have a stock of five 2023 Mustang Mach-E SUVs that qualify for the new tax credits, available for immediate delivery.
With the implementation of the Inflation Reduction Act, there are now various tax credits available that make it more affordable for households and business owners to purchase a new Mach-E. These credits, specifically a $7,500 discount for business owners on the 2023 Mach-E SUV, make Ford's electric vehicles more accessible and cost-effective. If you're a GLE residential customer, they offer an additional $500 rebate when you lease or purchase a new Ford Mach-E. The details are on their Energy Wise website.
Business owners have an advantage over consumer households when it comes to obtaining tax breaks for purchasing a new "clean" passenger car. The consumer program has restrictions based on annual income, retail pricing, and vehicle manufacturing, whereas the commercial program for businesses has no such restrictions. Businesses that lease or purchase an electric vehicle can receive a tax credit of between $7,500 and $40,000, with no expiration date, and can be used for up to 10 years through the end of 2032.
At Bill Brown Ford, we understand that your time is valuable. That's why we've created a streamlined electric vehicle commercial lease process to get you on the road in your new all-electric Mustang Mach-E SUV as quickly as possible. Our EV Specialists will guide you through the process and answer any questions you may have about the straightforward conditions for business owners. The main requirement is that the vehicle you claim the tax credit for will be subject to a depreciation allowance, like any other business asset.
The tax credit has two thresholds, vehicles that weigh less than 14,000 pounds, like the Mach-E, qualify for up to $7,500. New electric vehicles that weigh more qualify for up to $40,000 in tax breaks. Tax-exempt organizations can also benefit from the discount. Qualifying businesses will receive their $7,500 incentive as a check that will come directly from the US Government. Business owners can only get one tax break, either the consumer benefit or the commercial one.
The 2023 Mustang Mach-E offers buyers a powerful AWD SUV that is great in the snow and has the added acceleration and performance of an electric vehicle. At Bill Brown Ford, you can choose from the luxury and added interior features available in the Mach-E Premium Model or the additional performance of the GT. Additionally, Ford includes their exclusive driver-assistance technology, Co-Pilot360, on all Mach-E models for 2023.
We know you have a few questions
What is the range of the Mustang Mach-E?
For 2023, Ford increased the range, and they state that the Mach-E can now go more than 300 miles before you need to charge. Edmunds recently tested the Mach-E and found that the 2023 Mach-E gets 314 miles of range.
How fast is the Mustang Mach-E GT?
It's FAST. The Mach-E GT gets from 0 to 60 MPH in 5.2 seconds.
Are new electric vehicles cheaper to own than new gas-powered vehicles?
Electric vehicles, like the Mustang Mach-E, are much cheaper to maintain than comparable internal combustion engine vehicles. This is because electric cars have fewer parts, and the parts they do have are simpler to repair and manage. No spark plugs, valves, fuel tanks, mufflers, starters, belts, hoses, or catalytic converters need maintenance or replacement. While the battery pack of an electric vehicle may cost more than $10,000, it is built to be modular, allowing for individual cell repair, and comes with a comprehensive warranty.
All-electric vehicles also require less scheduled maintenance than gas-powered vehicles. The all-electric E-Transit model, for example, is estimated to require 40% less scheduled maintenance than the average gas vehicle over eight years or 100,000 miles. The Mustang Mach-E is no exception, with scheduled maintenance costs estimated to be 38% less than the average cost for a gas-powered Escape over five years or 75,000 miles. Additionally, based on standard fuel prices and vehicle usage assumptions, there is an estimated savings of $893 in fuel costs per year for the Mustang Mach-E.
Additionally, Car and Driver magazine conducted an extensive three-year 45,000-mile cost analysis of an F-150 and a similarly equipped F-150 Lightning™. They looked at everything, including energy usage, maintenance, and depreciation. Their data found that the F-150 Lightning™ was a minimum of $2664 cheaper to own and operate over the first three years than the gas-engine F-150. When you add in the tax credits, the F-150 Lightning is significantly less — a total of $10,164.
Purchase or Lease a New EV from Bill Brown Ford in Livonia, MI, Today!
With a new Mustang Mach-E from Bill Brown Ford, you'll never have to stop for gas again. This all-electric AWD SUV is a perfect blend of performance and range, and it's even more fun to drive in its third year of production. The 2023 Mach-E feels like an SUV sportscar, and it also offers an amazing new Ford AWD suspension that absorbs bumpy roads and keeps road noise out of the cabin better than most luxury sedans.
The new $7,500 tax break is an excellent opportunity for business owners to purchase a 2023 Mustang Mach-E at a significant discount without worrying about vehicle manufacturing or personal income requirements. Mach-E's are in short supply, and we currently have five in stock. If you're interested in learning more, we suggest reaching out to one of our EV specialists, Rob VanAssche, at (734) 524-2794 or by email at [email protected].
AVAILABLE MUSTANG MACH E INVENTORY
*Instant savings based on a 2023 Ford Mustang Mach-E GT AWD GT with the stock #230068A and includes a/z plan with all factory/conquest/renewal/loyalty rebates to dealer. No plan, renewal, or loyalty slightly more. Plus, tax, plates, title, license, registration, and finance charges. Residency restrictions apply. Contact Bill Brown Ford for details. Pictures may not represent actual vehicles.