New Price Cuts Make the 2023 Mustang Mach-E More Affordable at Bill Brown Ford in Livonia, MI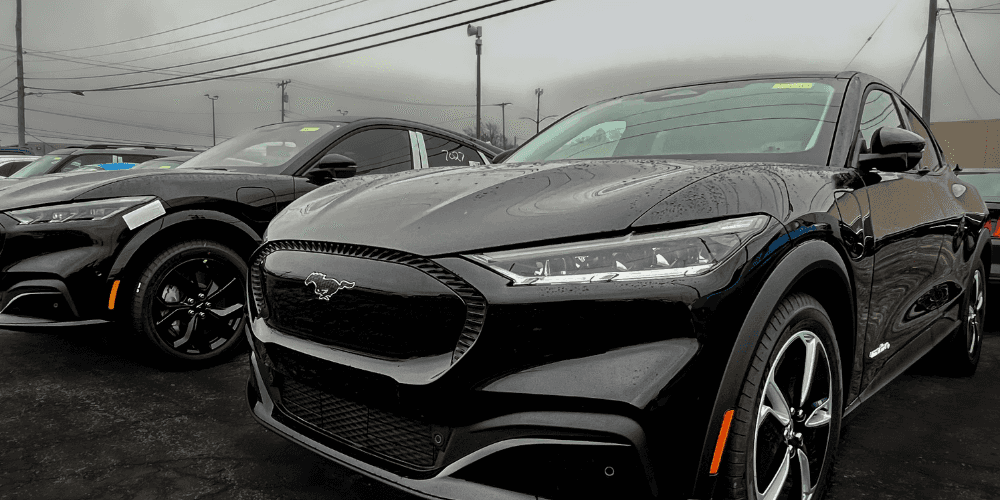 More Affordable Mach-Es, More Available Mach-Es
Ford Motor Company became the second largest electric vehicle manufacturer, with 61,575 electric vehicle sales in 2022. In 2023, Ford aims to achieve even greater success by making the 2023 Ford Mustang Mach-E more affordable and accessible. These new price reductions are now in effect, and customers who have already placed an order but have yet to receive their vehicles will have the price adjustment automatically applied. Consumers who have already accepted delivery of their 2023 Ford after January 1st should hear directly from Ford.
Ford has announced its plans to significantly boost production of the Mach-E by nearly 67% in 2023, shortening customer wait times. Ford announced that they have secured the necessary batteries and materials to escalate the production of the F-150 Lightning, a full-size EV truck, the E-Transit van, and Mustang Mach-E in 2023.
How Much is the New Mustang Mach-E Discount?
Depending on the 2023 Mach-E configuration and trim level, the Mach-E has been marked down anywhere from $600 to $5900. For reference, Bill Browns available 2023 Ford Mustang Mach-E California Route 1 AWD model had an MSRP of $65,115. After the $4,942 discount, it now has an MSRP of $60,173. Take that discount even further if you qualify for A/Z Plan Pricing or X Plan Pricing.
Available 2023 Ford Mustang Mach-E for Sale in Michigan
If you are in the market for a new electric SUV, Bill Brown Ford in Livonia, Michigan, has six 2023 Mustang Mach-E Models on the lot, ready for immediate purchase. Our local Michigan Dealerships TrueView™ Inventory is updated multiple times daily to reflect only available stock units. Check out our available 2023 Mach-E Models and the new discounted price below.
2023 Ford Mustang Mach-E GT AWD
2023 Ford Mustang Mach-E GT AWD
2023 Ford Mustang Mach-E Premium AWD
2023 Ford Mustang Mach-E Premium RWD
2023 Ford Mustang Mach-E California Route 1 AWD
2023 Ford Mustang Mach-E Select AWD
Charging & Range
The Mustang Mach-E offers thrilling acceleration and zero emissions while boasting an EPA-estimated range of up to 300+ miles. It comes equipped with the BlueCruise hands-free driving technology, available on over 130,000 miles of highways, and can be upgraded through Ford's over-the-air Power-Up software updates. All Ford electric vehicle customers also have access to the BlueOval Charge™ Network, North America's largest public charging network with over 79,000 charging plugs and counting.
Claim $7,500 in Electric Vehicle Tax Credits
As of January 1st, 2023, business owners can claim $7,500 in electric vehicle tax credits when buying a new Mustang Mach-E SUV from Bill Brown Ford. The Inflation Reduction Act has made it more cost-effective for businesses and households to purchase the Mach-E by providing various tax credits. If you are a GLE residential customer, an additional $500 rebate is available when you buy or lease a Mach-E. Business owners have an advantage over households as they can receive more significant tax breaks for purchasing an electric car, with no restrictions based on income, price, or vehicle manufacturer, unlike the consumer program. Businesses that buy or lease an electric vehicle can receive a tax credit of $7,500 to $40,000 without an expiration date and usable for up to 10 years till 2032.
EV Myths Busted—Top 10 Concerns For Future Electric Vehicle Owners